The term "teriyaki" describes both the sauce and a Japanese method of cooking. It was created in the 17th century and is now served all over the world as a universal symbol of Japanese cuisine. This sauce is suitable for dipping, basting, and marinating. After making this amazingly tangy, rich, sweet and best teriyaki sauce, you won't ever go back to store-bought teriyaki sauce.
For dishes with chicken, fish, or beef, use this best teriyaki sauce. Noodle stir fry and rice dishes can be given a Japanese flair, while the latter can be used as a dipping sauce for shrimp or dumplings.
Ingredients Needed
Brown Sugar: You can use light brown sugar or honey
Soy Sauce: You can use low sodium soy sauce or tamari
Honey: Use two teaspoons if you prefer the sauce to be sweeter; otherwise, use just one.
Garlic: Use fresh garlic on hand. Also you can use about 1/4 teaspoon garlic powder.
Ginger: Use ground ginger. You'll need 1-2 tablespoons of fresh ginger.
Cornstarch: Your sauce will thicken as a result of this. If you want a thinner sauce, feel free to cut this amount in half. The sauce will grow very thick.
How to Make Teriyaki Sauce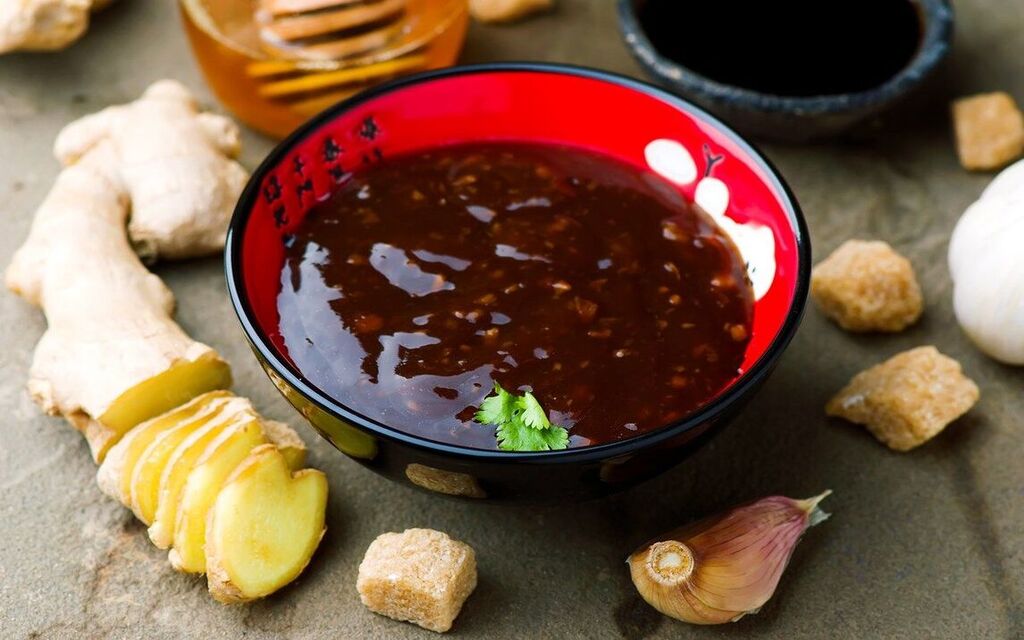 Because of its rich, umami-infused umami flavor and dark, powerful flavor, this sauce is well-known worldwide. Soy sauce, brown sugar, garlic, ginger, honey, and mirin are among the main ingredients. This sauce is a perfect accompaniment for grilled meats due to its glossy sheen and powerful flavor.
Teriyaki Sauce Recipe
Prep Time: 5 min. Cook Time: 6 min. Total Time: 11 min Servings: 12 Yield: 2 cups
Ingredients
1 cup water
¼ cup soy sauce
5 teaspoons packed brown sugar
1 tablespoon honey, or more to taste
½ teaspoon ground ginger
¼ teaspoon garlic powder
2 tablespoons cornstarch
¼ cup cold water
Directions
1. In a saucepan over medium heat, combine 1 cup water, soy sauce, brown sugar, honey, ginger, and garlic powder. Sauté for about a minute, or until almost thoroughly heated.
2. In a cup, combine cornstarch and 1/4 of the cold water; whisk until combined. To the saucepan, add. For 5 to 7 minutes, cook and whisk the sauce until it thickens.
3. The sauce is ready! It can be kept in the refrigerator for up to two weeks or used immediately away. Also, the flavors will improve over time.
Nutrition Facts (per serving)
Calories 21, Calcium 4 mg, Potassium 17 mg, Carbohydrate 5g, Sugars 3g, and Sodium 302 mg
How to Store
In the refrigerator, homemade sauce will keep for up to a week, but be aware of any additional components like alliums or herbs that might reduce its shelf life. For optimal results, store any remaining sauce in an airtight container.
Notes:
Mirin is a sweet Japanese rice wine that is comparable to sake but has a higher sugar content and less alcohol. If you don't have mirin, you can substitute sherry with a little bit of sugar.
Omit the cornstarch if used as a marinade, and allow the sauce to cool completely before using.
Frequently Asked Questions
1. What was the teriyaki sauce's origin?
Using just soy sauce, sugar, and rice vinegar as a foundation, Toshi's Teriyaki created the first sauce in Seattle back in the 1970s. Toshi's is the original. The sauce is combined with fresh ginger and garlic to create the marinade used to immerse meat overnight.
2. What distinguishes oyster sauce from teriyaki?
Teriyaki sauce can be used in place of oyster sauce in a pinch because it has a similar consistency. Due to the inclusion of sugar, soy sauce, sake, or mirin in its preparation, it is sweeter than oyster sauce.
3. What distinguishes teriyaki from hoisin sauce?
Hoisin sauce has a thicker consistency than teriyaki sauce and a saltier flavor since it contains soybean paste.
4. What makes teriyaki sauce better?
To generate its particularly strong flavor, the traditional Japanese sauce includes soy sauce, mirin, sugar, and sake. Westernized versions add honey, garlic, and ginger for extra pungency. This sauce frequently contains cornstarch as a thickening.
5. If I don't have teriyaki sauce, what else can I use?
Because oyster sauce and teriyaki sauce have a similar flavor and consistency, they make a fantastic substitution for one another. Similar to teriyaki sauce, the sauce is salty, sweet, and mildly flavorful, making it an excellent dipping sauce for meats and vegetables. It functions particularly well in stir-fries.
6. What is the usage of teriyaki sauce?
This sauce is most frequently applied to meats and fish as a marinade or glaze. But, it also works in the oven or broiler, a skillet on the stovetop, a slow cooker, and a wok for stir-frying. It is most famous for its combination with grilled chicken.
7. How come teriyaki sauce is so tasty?
This sauce appeals to many because of how easy it is to produce and how it enhances the appearance of meals. The sauce's luster and shine are a result of the mirin or sake and the caramelization of the sugar.
8. Is teriyaki sauce used in Japan?
Its popularity has increased not only in the US but also in Japan. Over the past few decades, a whole movement of "teriyaki-lovers" has emerged in Japan. It is becoming a common sauce in many fast-food restaurants across Japan.
9. How nutritious is teriyaki sauce?
Since store-bought sauce contains a lot of sugar and sodium, it isn't the healthiest option. Nevertheless, making your own sauce allows you to alter the nutritional value by adding ingredients like low-sodium soy sauce and maple syrup.
10. Is Teriyaki sauce sweet or sour?
A savory-sweet sauce is used to fry and glaze foods using the Japanese culinary technique known as teriyaki.
11. Is teriyaki a healthy way to lose weight?
This sauce can be used as both a glaze and marinade for meat. To add flavor and moisture without the added calories, soak your proteins in the sauce rather than frying them. If you replace your fried chicken with teriyaki chicken, you might save close to 100 calories.
12. What negative impacts does teriyaki have?
Around 689 mg of sodium are present in one tablespoon of the sauce, but you're not going to stop there while you're eating a meal. Consuming too much sodium raises blood pressure, increases the risk of heart disease, and increases the chance of stroke.
13. Is soy sauce superior to teriyaki?
While teriyaki sauce has more sweetness, soy sauce typically has more sodium. Prior to selecting a condiment, think about the type of cuisine you're creating!
Image credit: Yandex.com
Also Read: Hoisin Sauce Recipe
(Visited 56 times, 1 visits today)