The hill station of Shimla has long been a favorite of visitors from India and other countries. Food also contributes significantly to making a holiday experience here memorable, just like it does in any other place. Therefore, if you are visiting Shimla, you should be prepared with knowledge of the greatest local cuisine, especially Shimla's traditional fare. Local cuisine is one of the best ways to experience the Pahadi way of life. We will explore here the foods of Shimla you must try when visiting there next time.
Shimla is unrivaled when it comes to delicious food of all kinds, despite its widespread appeal. For guests of every color, Shimla offers everything from elegant local restaurants to renowned roadside eateries. Shimla offers a range of foods if you want to sample authentic hill food. Shimla offers a wide selection to suit your taste, from regional specialties to seasonal treats. Here, we have explored the foods of Shimla that you must try while you're there:
1. Madra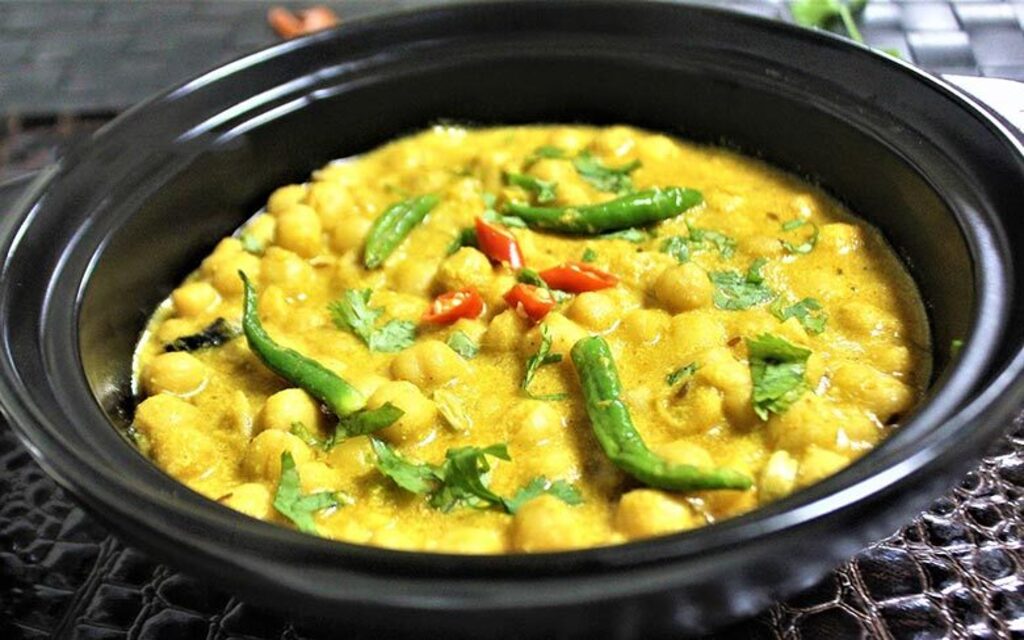 It is a specialty of the Chamba district of Himachal Pradesh and is a curd and legume-based dish. Madra is a highly popular dish in Himachali cuisine, you can eat it with steamed rice. It is made with chick peas, kidney beans (Rajmah), Black eyed beans (Rongi), and curd. Madra is one of the foods offered in a Himachali food feast together with many other dishes on various occasions. It is prepared using numerous seasonings like as cloves, cinnamon, cardamom, cumin seeds, coriander powder, and turmeric powder.
2. Dhaam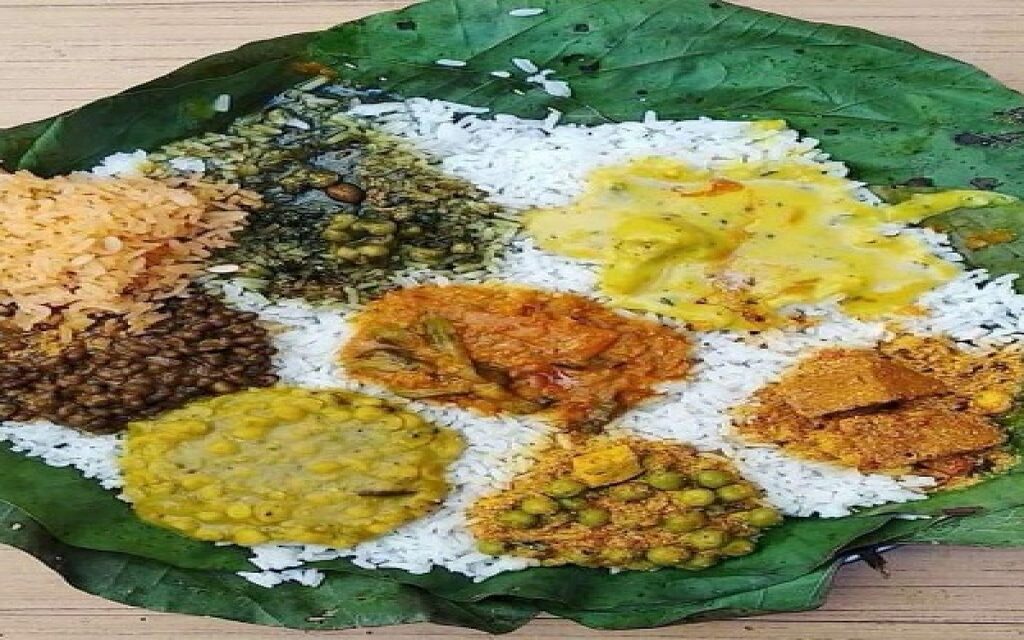 This is a complete food that guarantees a good amount of nutrients in addition to having a fantastic taste. The dish consists of dal, rajma, rice, curd, and boor ki kadi, and may also be served with gur (jaggery). Dhaam is a platter of delicious treats that must be served at festivities and festivals. The unique aspect of this dinner is that it is prepared by specialized chefs known as "botis." You should visit Himachal during festivals if you want to sample the best Dhaam. On the majority of religious holidays and lucky days, dhaam is also served in the temples.
3. Sidu
It is a well-known bread made from wheat that has been kneaded with yeast for two hours before baking. It is then filled with mashed, boiling green peas, roasted peanuts, walnuts, and paneer (cottage cheese), and is typically served with dal (lentils), ghee, and green chutney.
4. Thukpa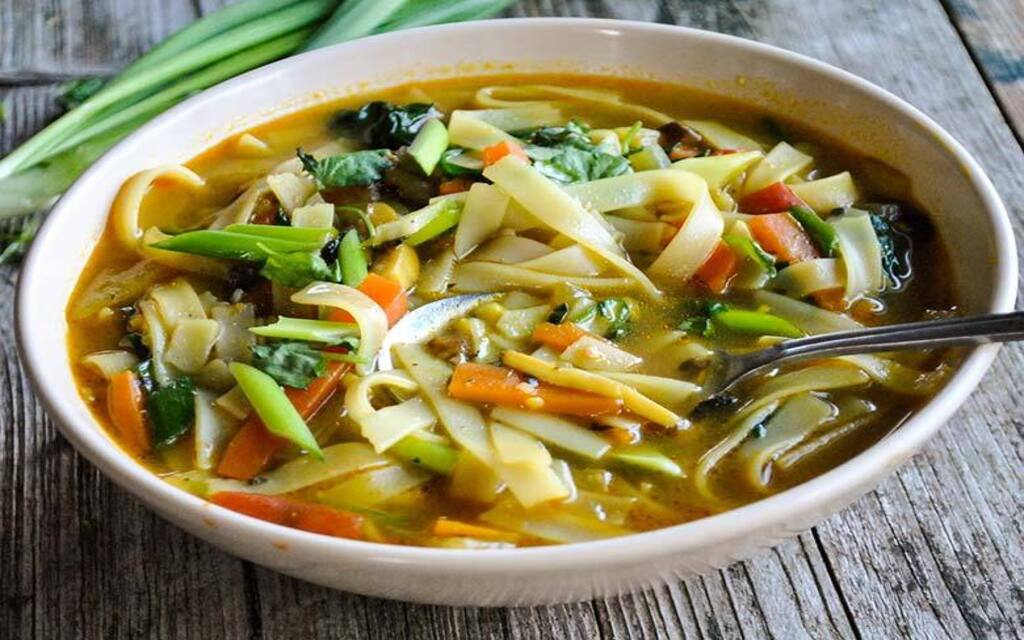 This is a Tibetan noodle soup that can be made both vegetarian and non-vegetarian. With or without meat or chicken, fresh vegetables including tomato, onions, string beans, carrots, and chopped cabbage can be added to the noodles. This spicy dish is made with chile, ginger-garlic paste, and other sauces of the customer's choosing. It can also be cooked with chicken or beef.
5. Babru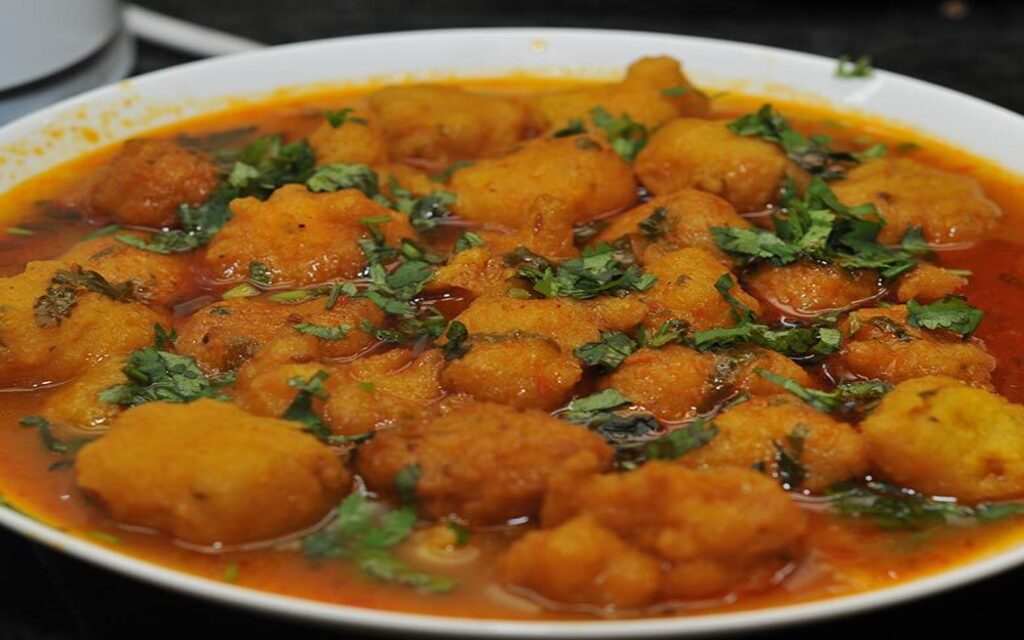 A dish is similar to kachori which is highly popular in Himachal Pradesh. They make It by stuffing kneaded dough patties with ground black gram daal paste then both soaked and ground. Then after folding and deep-frying it, they serve patties with tamarind chutney or any other sabzi.
6. Chha Gosht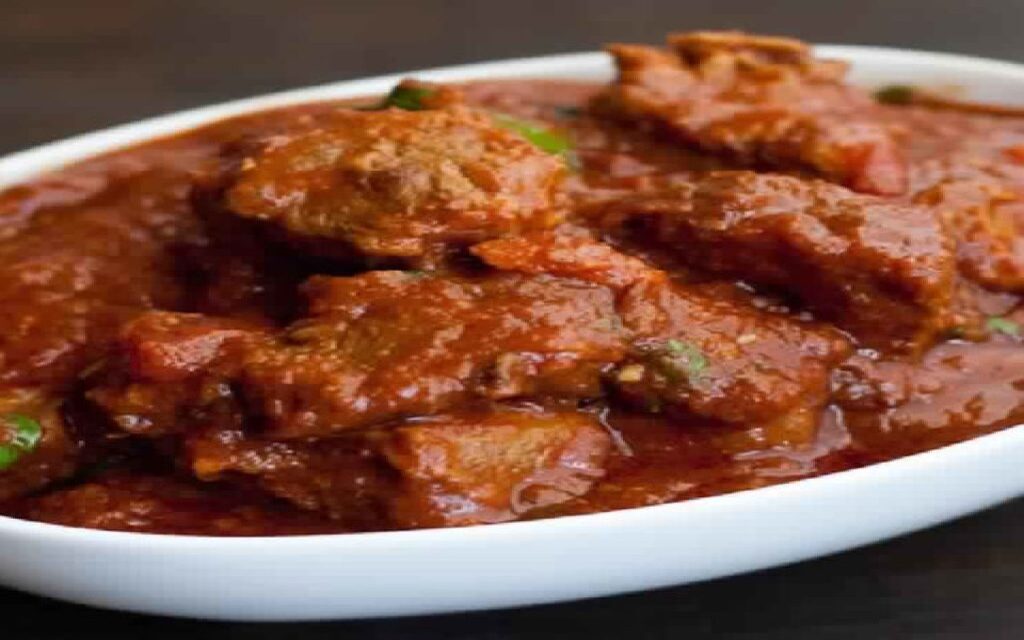 Another delicious dish from the Himachali region is chha gosht. They cook spiced lamb flesh in a sauce of gram flour, yogurt, and other herbs and spices, including cardamom, red chilli powder, coriander powder, bay leaves, asafoetida, and ginger-garlic paste.
7. Mash Daal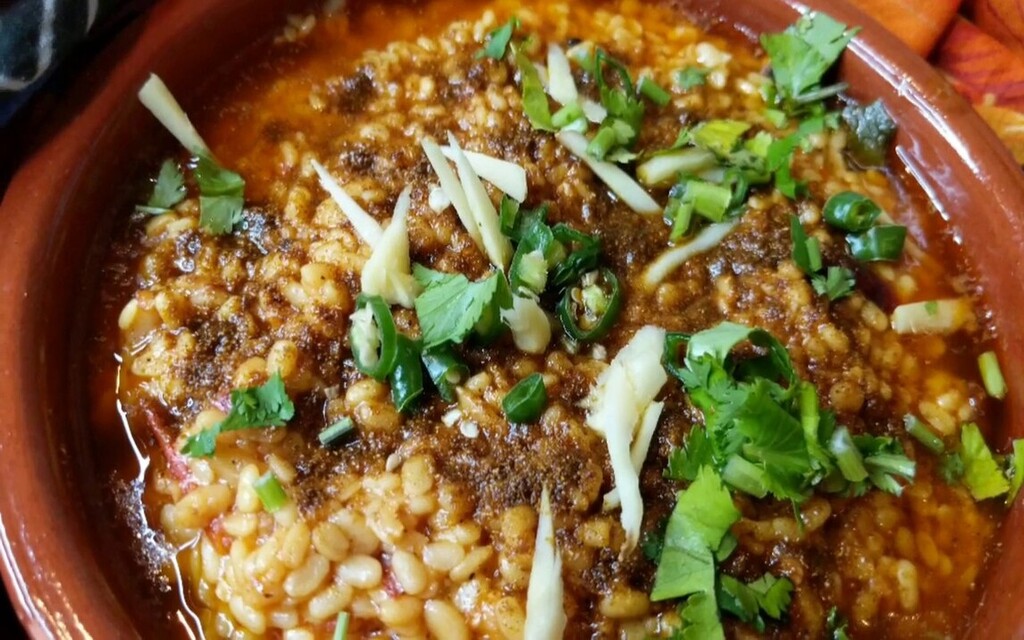 They use split black lentils or ma ki daal to make mash daal or kali daal. They make the soothing mash daal by soaking it the night before, pressure cooking it, and then cooking it with very finely chopped onions, ginger, and garlic as well as other seasonings, then after shallow frying it in warm mustard oil.
8. Chicken Anardana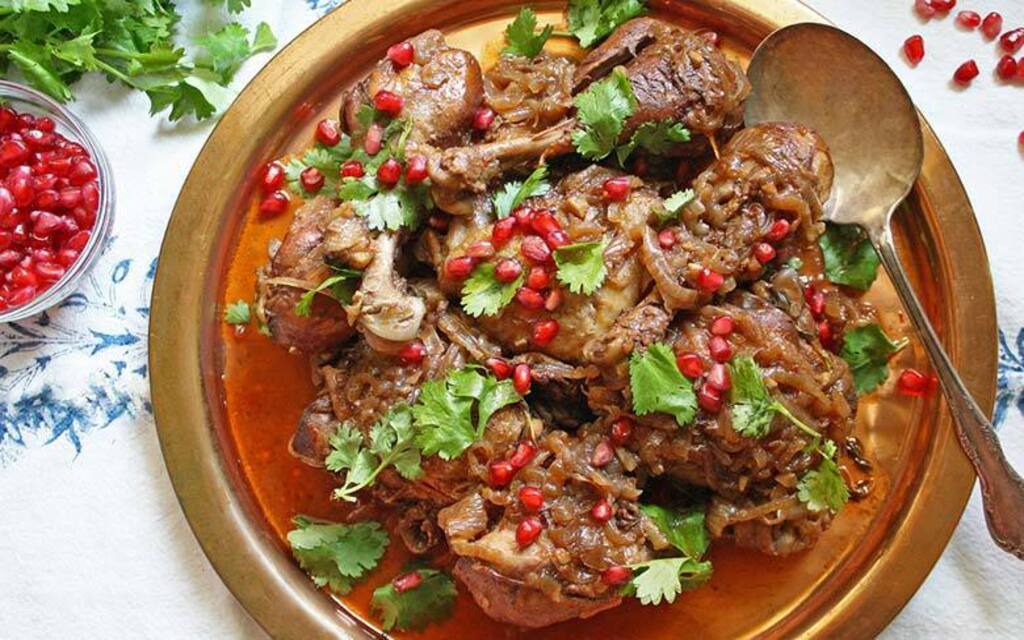 This chicken recipe is deceptive since it gives off the impression of having sour, spicy, and warm flavors. They use many spices, cashew, and khus khus paste to cook the chicken anardana in yogurt, which gives the sauce a unique texture and flavor.
It might frighten you and appear overly greasy or heavy for a weak stomach. But in truth, all that is doing anything is the ground anardana (dry pomegranate seeds). They offer the meal with rice, naan, or paranthas.
8. Aktori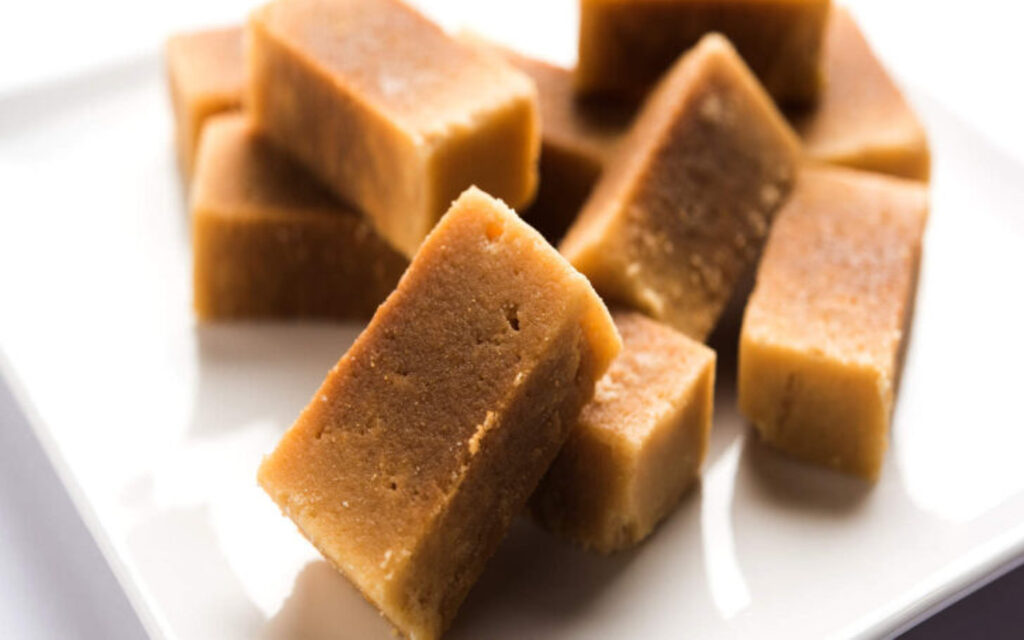 The people of Himachal Pradesh greatly appreciate the festive dish aktori during their holiday season. They fry the buckwheat leaves in wheat flour to create a cake or pancake to prepare the dish known as aktori. Despite the dish's Spiti Valley origins, they regularly cook and highly serve the dish throughout Himachal Pradesh.
9. Kullu Trout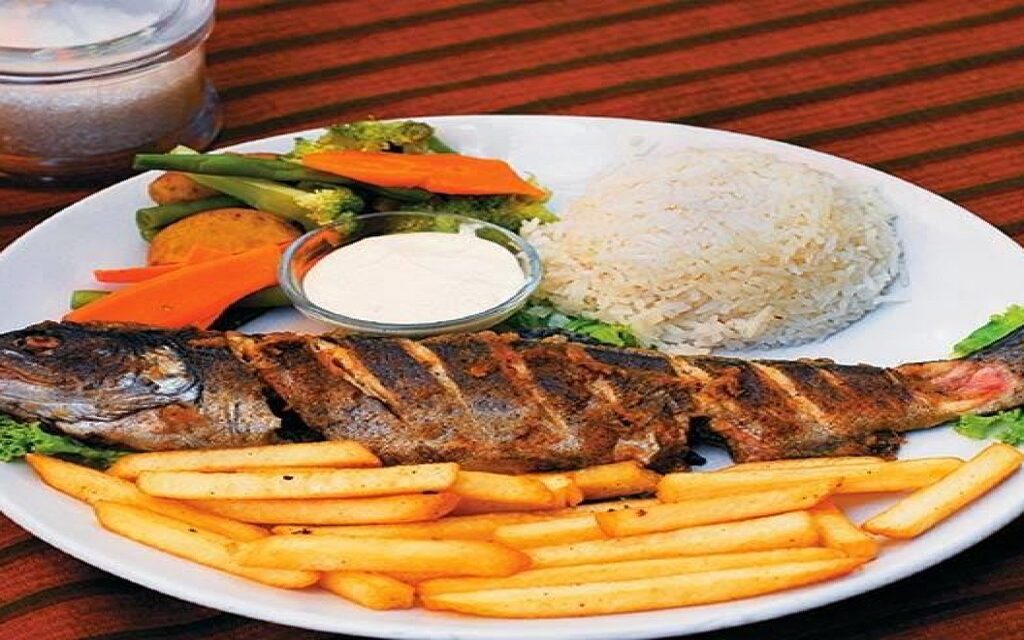 Himachal Pradesh boasts a wide variety of delicious non-vegetarian foods. The Kullu region's well-known dish, Kullu trout, is made with trout fish. To preserve the nutrients and the true flavor of the trout, they cook the marinated fish with a small number of seasonings. They serve the dish with a variety of boiled vegetables.
10. Pahadi Chicken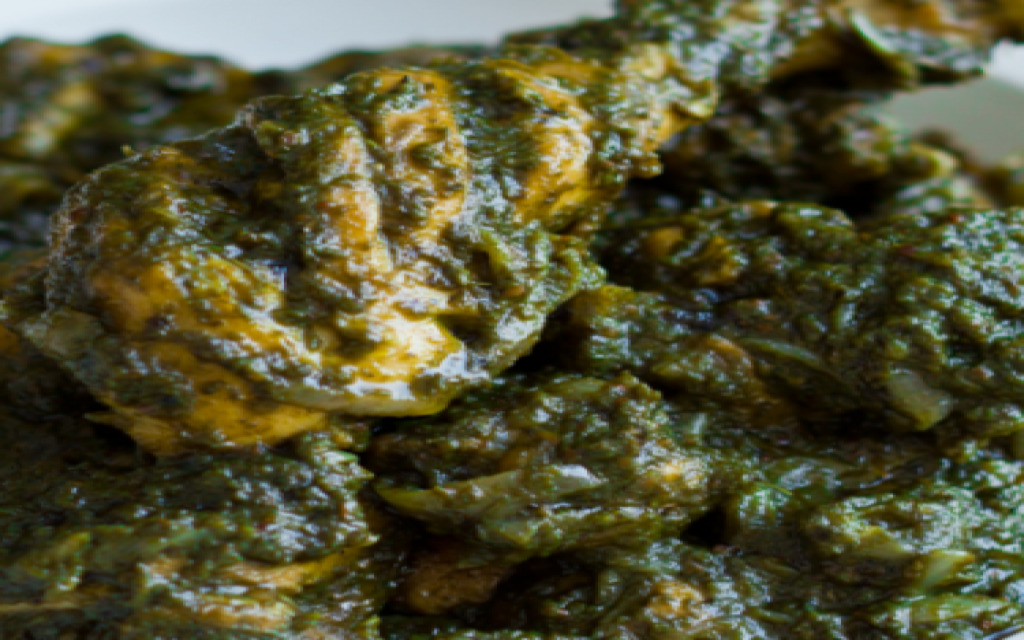 This mouthwatering dish is famous as "Pahadi Chicken". They cook the chicken with coriander seeds, cinnamon sticks, cloves, fennel seeds, and onions. It has a mouthwatering flavor and they served it with Jeera Rice, Butter Naan, and pickled onions.
11. Mittha
They cook rice with ghee and dried fruits like cashews, almonds, and raisins as well as a small amount of the saffron-colored dye to prepare this sweet dish known as mittha. They offer this Pahari meal at celebrations and family get-togethers.
12. Aloo Palda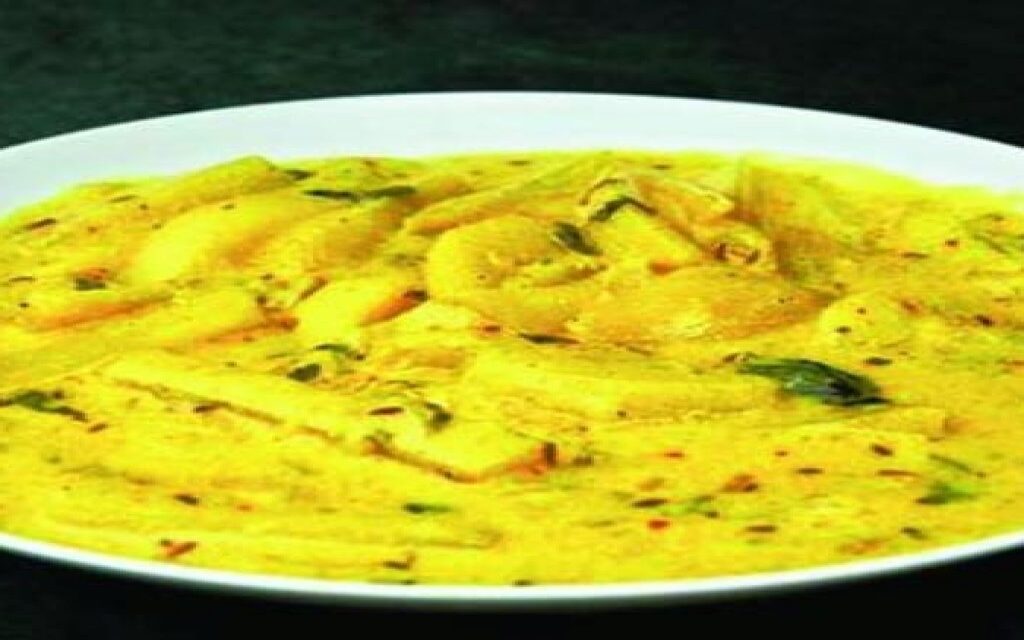 The famed Shimla dish Aloo Palda is well-known all over Himachal Pradesh. It is like potato curry in the Pahari style with curd. In Aloo palda, They cook the potatoes in the gravy of curd, to give it a taste.
13. Khatta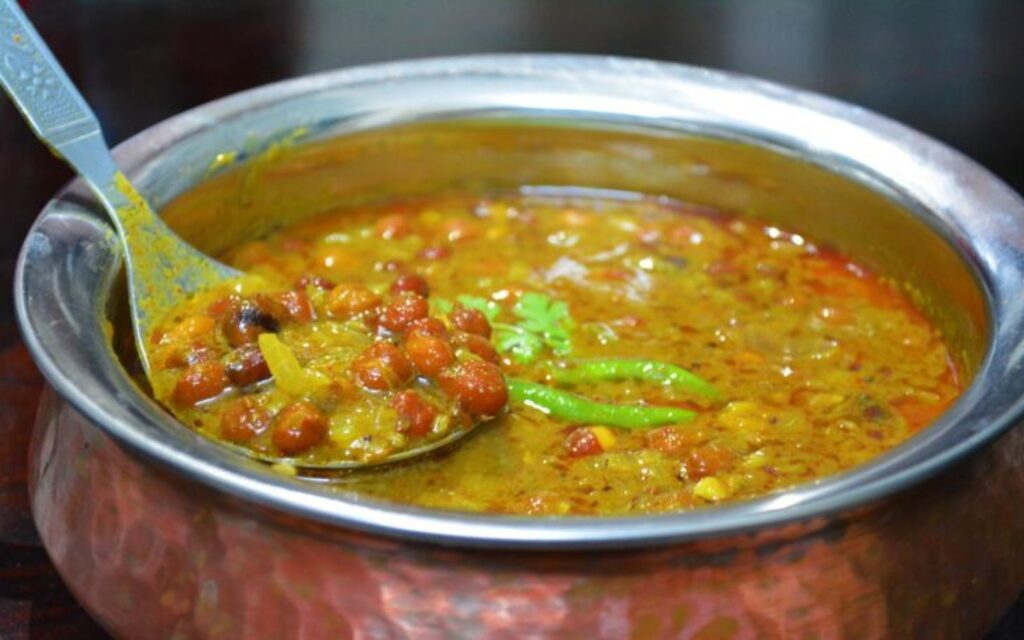 A delicacy popular in Shimla and all over Himachal Pradesh. This is one of the most popular foods of Shimla you must try. They serve it with Sepu Vadi and Gucchi Mattar. They use dried-out raw mango powder, or amchoor, and other spices for preparing it. Served with rice and Madra, it is a classic Pahari meal that is sour.
14. Bhey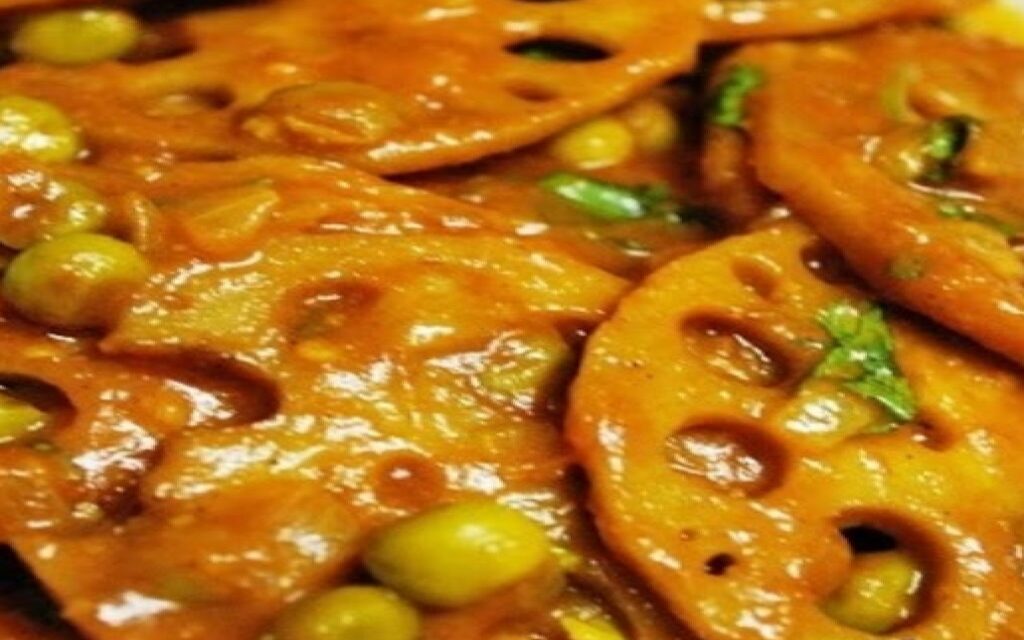 This is another famous food of Shimla you must try. They use lotus stems for preparing them. They cook thinly sliced Lotus stems with ginger, garlic, onions, and gram flour. Bhey is maybe a savory meal that gives food a distinctive and excellent taste.
15. Tudkiya Bhath
It is a well-known Chamba district meal They serve it during holidays and other special occasions all over Himachal Pradesh. It contains lentils, yogurt, rice, potatoes, onions, garlic, tomatoes, cinnamon, and cardamom. They serve a pahadi-style pulao called tudkiya bhath with mashed dal and a few drops of juice.
Image credit: Yandex.com
Also Read: Shimla Trip from Delhi
(Visited 153 times, 1 visits today)