Shimla is the capital of Himachal Pradesh, India. Shimla is one of Northern India's oldest and most well-known hill stations. It is undoubtedly the Queen of the Himalayas, boasting breathtaking views of the mountain range's peaks, alpine forests, and an obvious colonial charm. The town's altitude is 2,276 meters (7,467 ft). If you are living in Delhi, we are exploring all the things of the Shimla trip from Delhi which will help you much.
It is the ideal location for both a fast weekend break with friends and a trip with your family. Shimla is a popular travel destination for thousands of people. Here, we are providing a complete travel guide before starting the Shimla trip from Delhi for your comfort.
Weather of Shimla
Shimla experiences relatively cool weather all year long. The summertime temperature ranges from 10 to 28 degrees Celsius. Wintertime temperatures typically range from 10°C to 0°C.
Each year, Shimla receives a lot of snow between late December and early February, transforming it into a winter wonderland. Due to the amount of snow on the road, sometimes even the roads from Shimla to Mashobra or Narkanda can be blocked. During these months, the nighttime low will be close to 0°C.
Best Time to Visit Shimla
The best time to visit Shimla is considered to be between March to June. At this time of year, neither the cold nor the heat are oppressive. The temperature will be comfortable from 10 to 28 degrees Celsius during the day and night.
The best months to go there are January and February if you were planning a winter vacation and wanted to see a lot of snow. Snowfall is more likely in January than in February. However, the temperature at this time of year might fall as low as 4 °C. Therefore, you must take a lot of warm clothing, like coats and woolens.
Shimla Manali Tour from Delhi
Here we will discuss the mode of transportation during the Shimla trip from Delhi. Depending on your option, you can travel to the city via road, air, or train due to its excellent connectivity. Owning a car would be the greatest method to get to Shimla. The road is in excellent condition. You may travel at your own pace, stop whenever you want, and take in the surroundings.
| | |
| --- | --- |
| Mode of Transport | Distance & Time to Reach |
| Road Distance from Delhi to Shimla | 343 km |
| Travel Time for Delhi to Shimla by Road | 7 hours and 20 minutes |
| Travel Time for Delhi to Shimla by Train | 9 hours and 40 minutes |
| Travel Time for Delhi to Shimla by Flight | 1 hour |
Travel by Road
If you were driving your own car or motorcycle out of Delhi, the path of the trip would be as follows:
Delhi – Panipat – Karnal – Ambala – Zirakpur – Panchkula – Kalka – Kandaghat – Shoghi – Shimla
Depending on your speed and rest stops, the overall journey duration will be around 7-8 hours. You will follow NH1 from Delhi to Chandigarh. But don't go into the city. Turn right toward Kalka on the Himalayan Expressway just before Chandigarh, then continue up the hill to Shimla. All year long, this road is in good condition.
Travel by Bus
This mode of transportation during the Shimla trip from Delhi is very exciting. Shimla has an excellent bus service that runs on a regular basis. Finding one will be very simple since there are regular buses accessible from practically all major cities in North India. Daily buses from Shimla to locations like Delhi, Chandigarh, Jaipur, etc. are operated by HRTC and HPTDC.
If you were traveling from Delhi, you might take a daytime or overnight air-conditioned luxury bus from ISBT Kashmiri Gate.
Every day, HRTC operates a number of buses from Delhi to Shimla. In this route, HRTC operates all bus types (Volvo, AC Deluxe, and Non-AC). Additionally, there are more HRTC buses, and they run both in the morning and at night.
HRTC Bus Schedule Information
The first bus leaves Delhi at 6:45 in the morning, while the last one leaves at 22:00.
From Delhi to Shimla, HRTC Volvo
06:45, 09:25, 21:00, 22:00
Shimla to Delhi HRTC AC Bus
20:00, 20:30
Delhi to Shimla HRTC Non AC Bus
08:00, 21:00
HRTC buses are available from Shimla to Delhi at the following times: 06:45 AM, 8:00 AM, 09:25 AM, 10:32 AM, 11:55 AM, 08:30 PM, 09:02 PM, 09:36 PM, 10:00 PM, 10:30 PM, and 11:00 PM.
Booking
Booking in advance is available at https://www.hrtchp.com/hrtc info/. If you intend to travel during the busy season, book your tickets well in advance of the departure date due to high demand.
Fare
Depending on the bus type, the one-way ticket from Delhi to Shimla is between Rs. 500 to 1100.
Starting Point
Inter State Bus Terminal (ISBT), Kashmere Gate, New Delhi
Halt
Twice along the trip, the buses stop. The first stop will be for lunch or dinner depending on the time of travel, and the second stop will be for a tea break. Since the first stop won't be till 4-5 hours after leaving Delhi, it is best to have some food and drink before getting on the bus.
Travel by Train
The distance between Delhi and Shimla can also be traveled by train. There aren't any direct trains from Delhi to Shimla, though. From Delhi to Kalka, you can take an express train, and then from Kalka, you can take single-gauge trains. The entire trip, which covers a distance of 96 kilometers in around 7 hours, is made on a narrow-gauge rail track. Depending on the train, the total travel duration can be between 10 and 23 hours.
There are 7 trains that go daily between Delhi and Kalka. There are roughly five trains to Shimla every day from Kalka.
Travel by Flight
You can book a flight to travel from Delhi to Shimla. Shimla Airport is the closest airport (SLV). Depending on the airline route, a flight lasts an average of 1 to 2 hours. Depending on the booking window, available discounts, and travel season, the airfare price can range from INR 1500 – 5000.
Top Places to Visit in Shimla
After discussing the different modes of transportation during a trip to Shimla from Delhi, we will learn about the top places to visit in Shimla.
1. The Ridge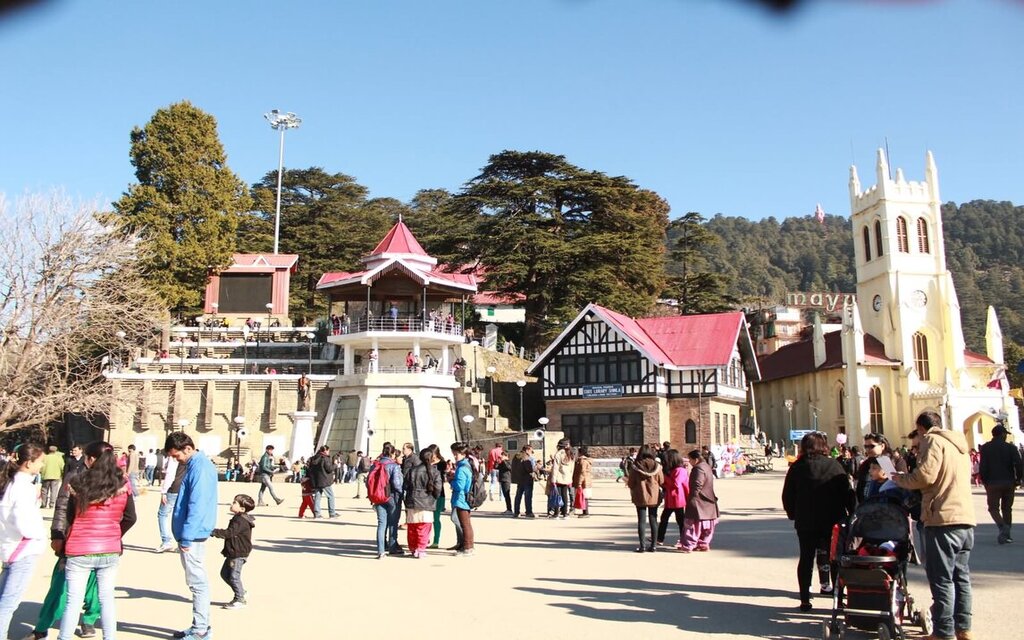 The best hangout spot in Shimla is this tourist attraction, which is located along Mall Road. The Ridge provides stunning views of snow-covered mountains that seem to be rising out of the sky. It acts as a gathering place for tourists thanks to the restaurants, hip cafes, and pubs that line the Ridge.
It links all of the town's principal tourist destinations, including Mall Road, Jakhoo Temple, Kali Bari Temple, and Annadale. The Ridge also links Scandal Point and Mall Road.
2. Kufri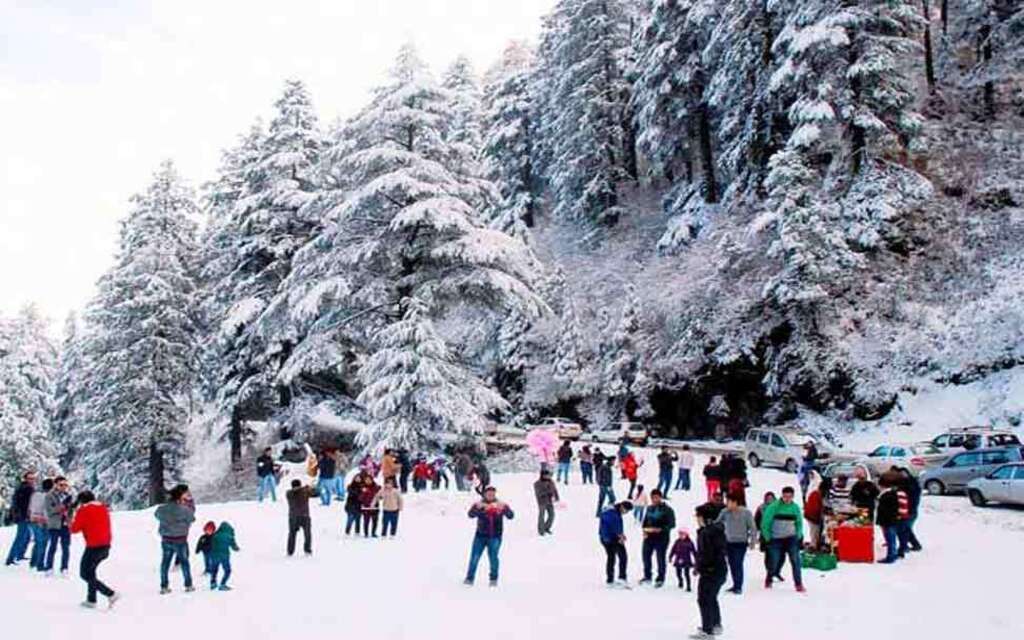 The hill station of Kufri is situated about 15 kilometers from the city center. Due to the frequent snowfall this hill town experiences in the winter, it has won the title "Winter Sports Capital of India." In this magical hill town with its picturesque snow-capped slopes, dense cedar woods, and lush meadows, adrenaline seekers can discover both calm and excitement. Kufri is one of the must-see locations in Shimla since it offers a variety of winter activities like skiing and ice skating.
3. Jakhoo Temple
Shimla's tallest peak, Jakhoo Hill, rises 8000 feet above sea level and is hidden beneath pine forests. The historic Hanuman temple on Jakhoo Hill contains the tallest statue of Lord Hanuman (108 ft).
On his route to obtain Sanjeevani Booti for Lakshman's survival, Lord Hanuman is said to have stopped here for a short while. The hill, one of Shimla's top tourist attractions, provides magnificent views of the Himalayas in all their splendor. Both pilgrims and those who love nature visit the temple.
4. Christ Church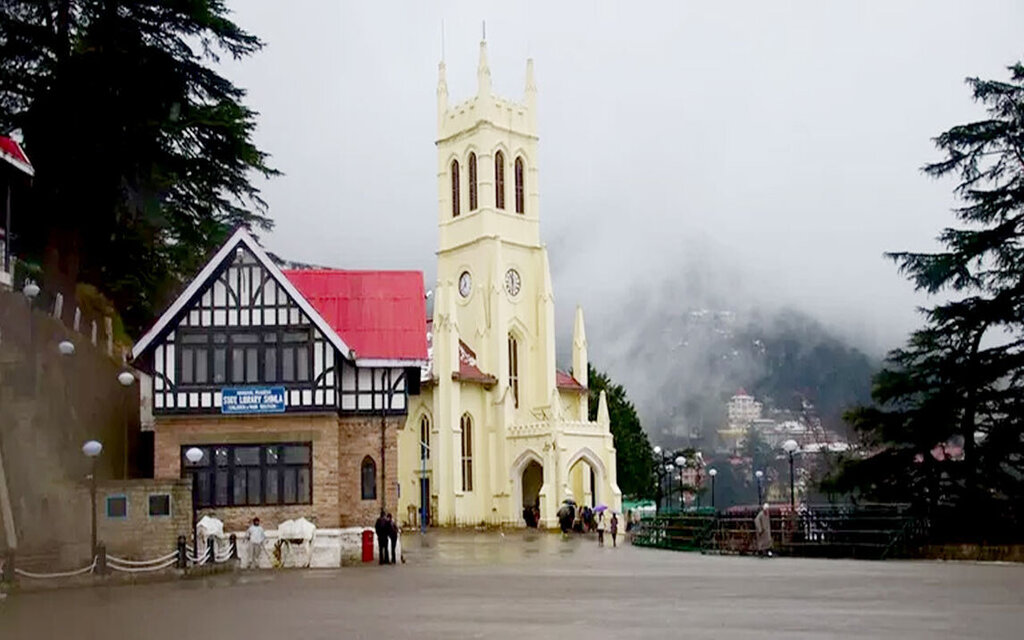 It is the second-oldest church in North India, situated on the Ridge. The structure is proud of its Neo-Gothic design, which demonstrates its colonial heritage. This architectural wonder is renowned for its stunning frescos, stained-glass windows, and clock tower.
The large yellow structure radiates optimism and hope in the morning, and its shadow in the evening provides comfort and solace from life's uncertainties. Either the morning or during the church prayer are the best times to visit this place of worship.
5. Chadwick Falls
The Chadwick Falls is a stunning white cascade hidden in a pine and deodar forest. The falls plunge 86 meters below, producing a genuine artwork of nature. To unwind and rejuvenate, one can take a plunge in the refreshing waters of the falls. This will help them to lose any fatigue.
The monsoon season, which lasts from July to September, is the ideal time to see Chadwick Falls because of the increased water level and the fall's full splendor.
6. Summer Hill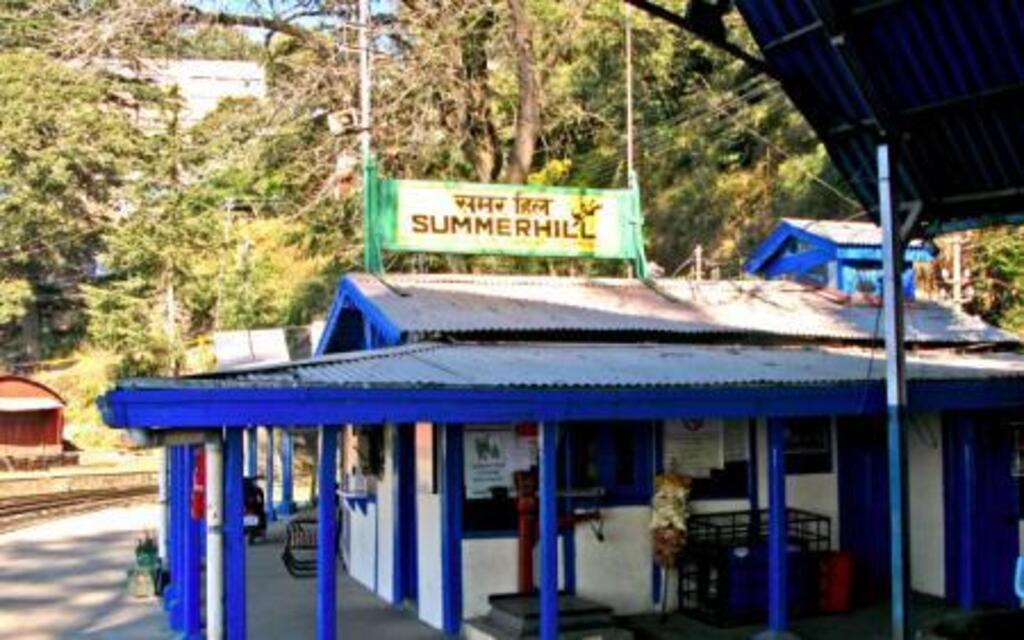 The distance between it and Shimla is 5 kilometers. It is one of the top spots to visit in Shimla and is renowned for its amazing natural beauty and lush foliage. This attraction's overlooks provide unbroken panoramas of hills encircled by thick pine and deodar forests, with a changing sky in the background. Summer Hill, often referred to as Potter's Hill, was where potters used to collect clay for their creations.
7. Annandale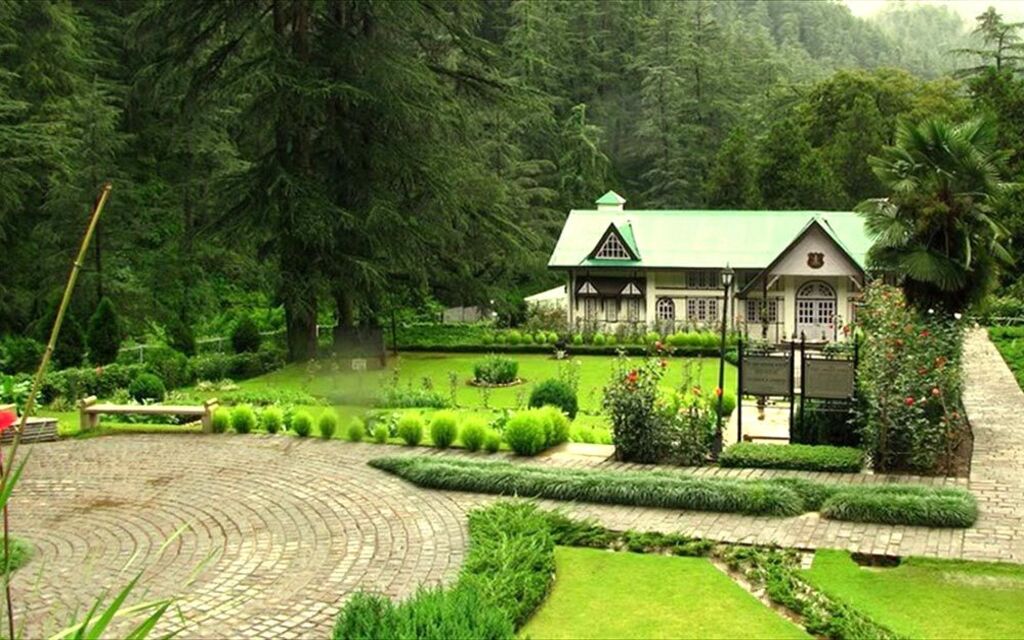 This level area, which lies 4 km from the Ridge, has beautiful lovely meadows and green trees. This well-known tourist destination is the ideal refuge for your summer vacation thanks to its stunning outlook and rich greenery. Annandale was a center for several adventurous sports, including polo, cricket, and racing, during British rule.
8. Tara Devi Temple
The wooden deity was transported all the way from West Bengal, and the temple is thought to be 250 years old. Goddess Tara, a Tibetan Buddhist deity and one of Goddess Durga's nine incarnations, serves as the temple's presiding deity. The temple is one of the most well-known tourist destinations with a calm setting of steep peaks, thick oak forests, and bright skies.
With a large number of temples in Shimla, Tara Devi draws admiration from both devoted followers and others who appreciate beautiful architecture. The temple, which is tucked away in a quiet setting, emanates a tranquil energy that enables its followers to connect with their souls and find comfort in their existence.
9. Shimla State Museum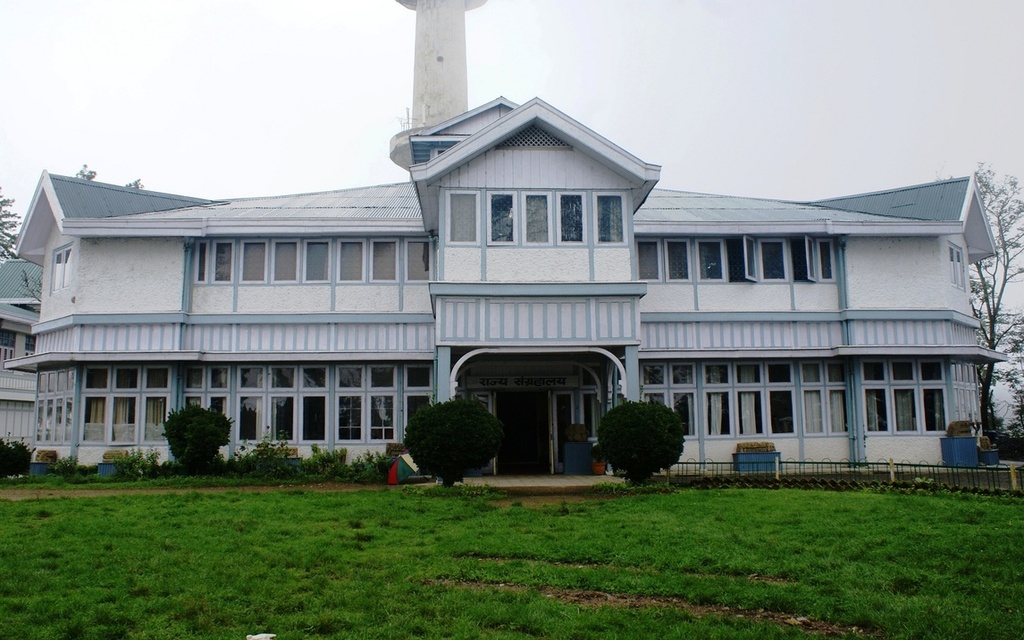 The Shimla State Museum features a wide variety of items found in the hill town, including handicrafts, coins, miniature paintings, weaponry, and more. The collection of metal idols from numerous temples located throughout the Himalayas is the most remarkable. History enthusiasts become lost in a paradise within the walls that contain the treasures from a long-gone era. Ancient tales of village life in the Himalayas are told in a number of scriptures in the museum.
Things to Do in Shimla
Shimla offers a variety of activities that can help you make wonderful memories, even though the hill station is most known for the aforementioned tourist attractions. The Shimla district is full of densely populated pine trees and small rivulets, rivers in deep gorges, as well as serene mountain lakes, mountainsides draped in snow, and green alpine meadows. All of these natural features are a part of this enormous spectrum, and there are also numerous opportunities for adventure-related activities. of course, there are many things to do After discussing the different modes of transportation during a trip to Shimla from Delhi. Shimla is renowned for offering a variety of adventure sports:
1. Hike to Jakhoo Hill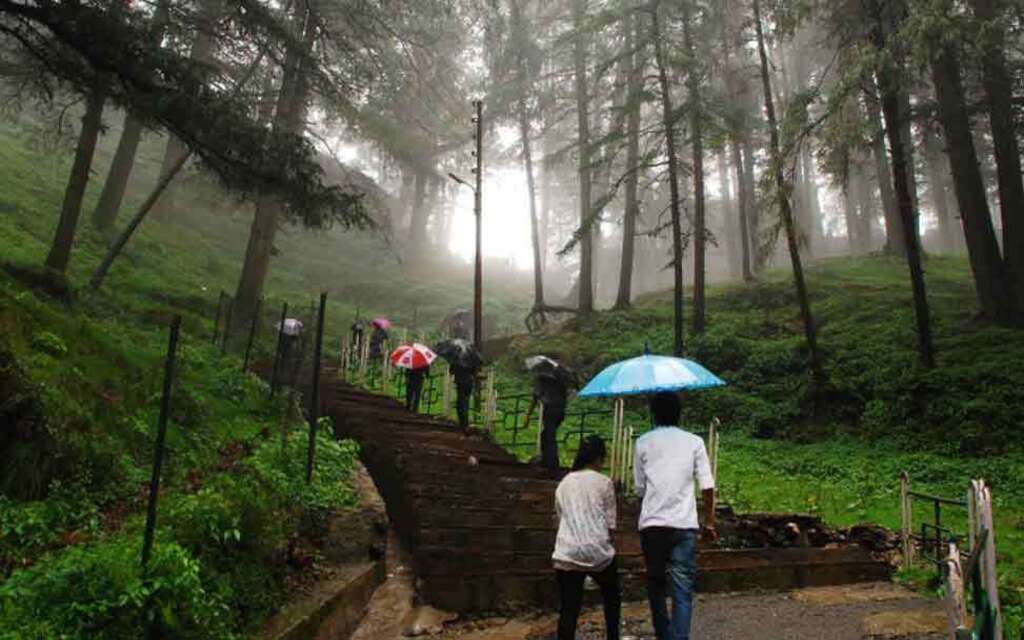 The highest point in the city is Jakhoo Hill. Alpine trees cover it completely. The vibrant Jakhoo Temple and the recently erected Hanuman statue are located atop the level hill. You simply need to be on the lookout for monkeys with criminal intent who are willing to steal food from tourists.
2. Shop at Lakkar Bazaar
You might visit the adjacent Lakkar Bazaar to do some shopping while you are delighting in the beauty of the Ridge. The wooden items sold in this market are well known.
3. Ice skating
One of the top winter activities in Shimla is to demonstrate your prowess on the outdoor ice skating rink. Every year, the rink draws hundreds of people searching for a memorable ice skating experience. There is a special method used to make the ice. It is kept shaded by the heavily forested hill, and the cold winter temperatures keep it from melting.
4. Paragliding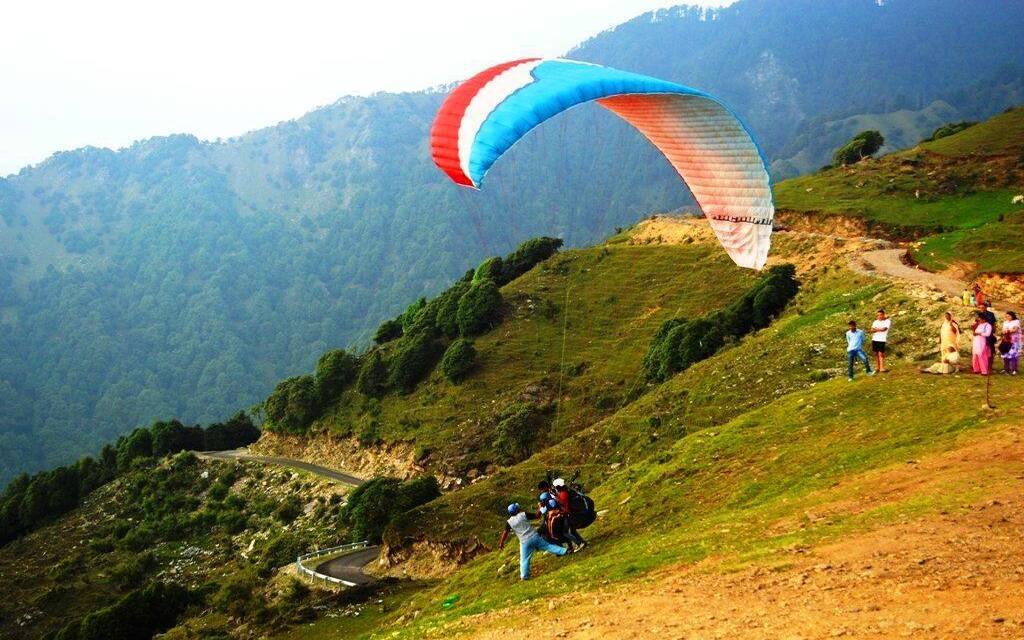 You can also try paragliding a chance; it's one of the most thrilling adventure sports that are popular right now. Go to Shimla's Kangra Valley, the haven for gliders, and take in the thrill of experiencing flight for the first time in your life.
5. Forest Camping
The practice of wild camping, especially at night and under the sparkling stars, is one of the most well-liked new Shimla attractions. There are many locations in Shimla where you can pitch your tent and get a true sense of nature. Narkanda, Shogi, and Kufri are a few of the popular places for camping.
6. Rock Climbing
Shimla is a fantastic choice for individuals seeking the thrill of rock climbing in addition to some other thrilling adventure activities. One of Shimla's most exhilarating adventure sports is rock climbing.
7. Golf in Shimla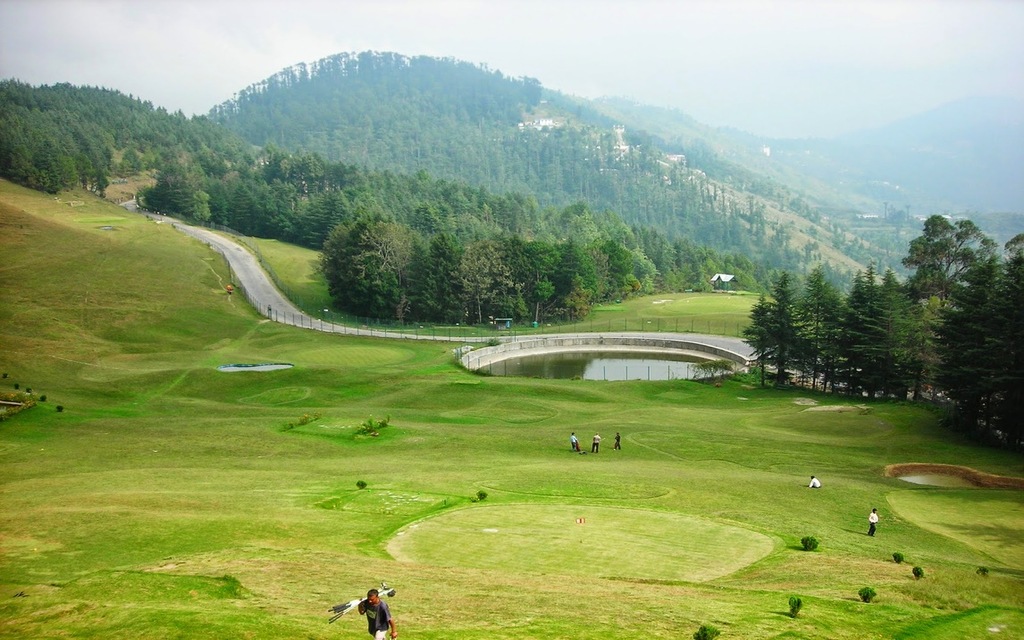 Shimla is blessed with huge open spaces that are perfect for a fairway. Actually, one of the most popular sports in the valley in Shimla is golf. The majority of visitors to India try their hand at golf at Simla. Golf is an especially enjoyable sport because of its tranquil surroundings.
8. Toy Train Ride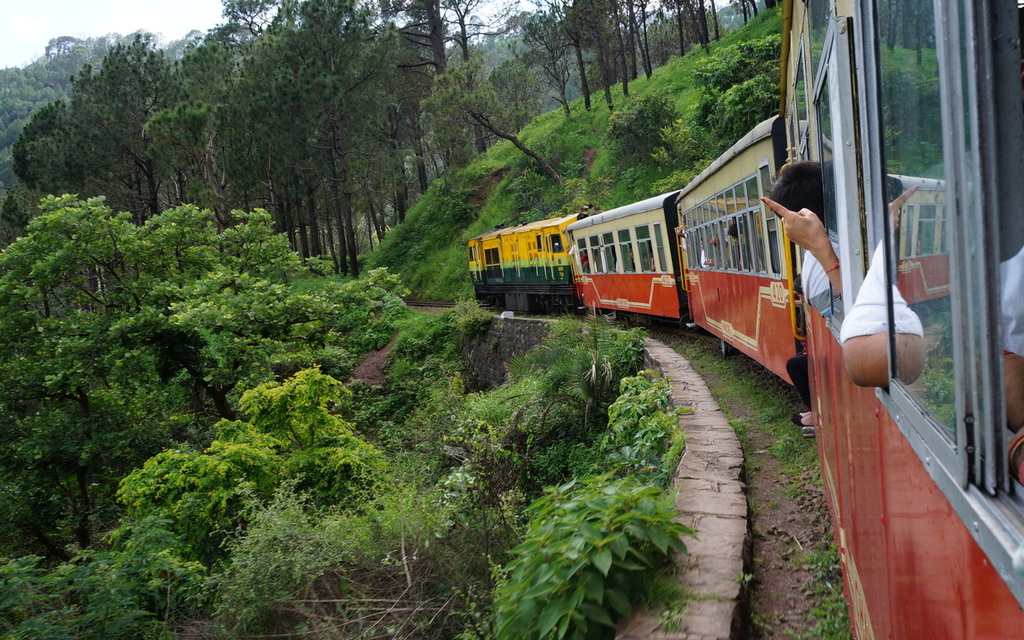 One of the best things to do in Shimla is to enjoy the ride on the toy train between Kalka and Shimla. The mountains' ancient railway line gives the area a peaceful feel. From your window, observe the other end of the train as it snakes along the crooked rails. The well-known Tunnel No. 33, one of India's top 25 haunted locations, is located along this route.
Where to Stay in Shimla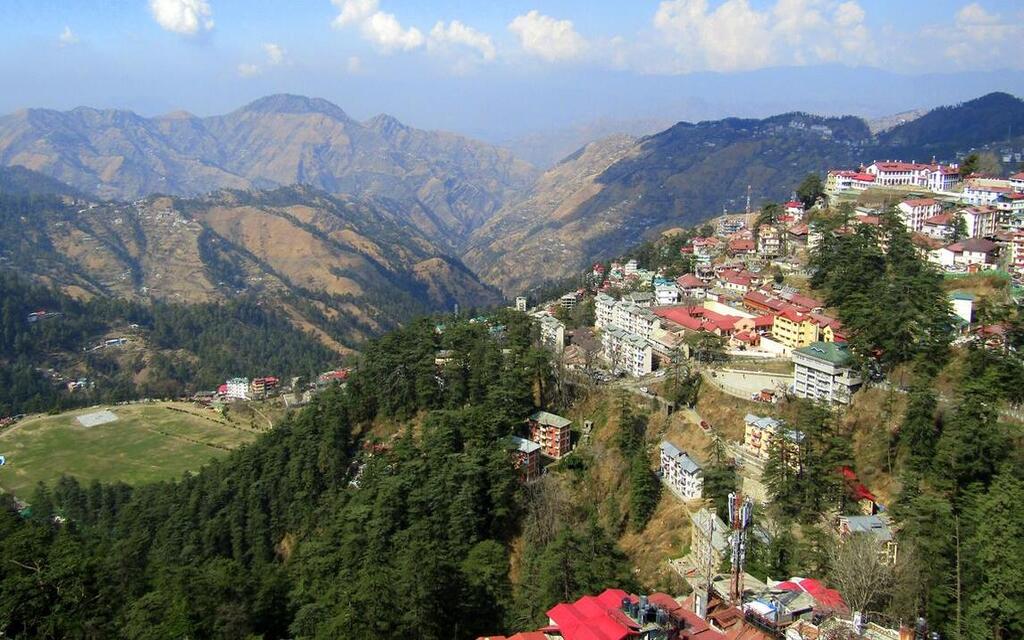 After learning about the various activities to do there, we will discuss where to stay during a trip to Shimla from Delhi. One of the most well-liked hill towns for couples is Shimla. It won't be difficult at all to find a place to stay. There are hotels in every price category available here, from lavish 5-star resorts to modest guest houses. Here, a room may be easily found for as little as Rs. 700 per night.
If you're looking for accommodations, Mall Road and Circular Road are great options. In addition to the luxury hotels and resorts on Circular Road, these regions have a number of inexpensive and mid-range hotels. Near the Kalka Shimla toy railway station, in Upper Kaithu, there is a good selection of mid-range and boutique hotels.
Take one of the Dharamshalas or stay in the Gurudwara if you are traveling alone or with pals and just need a basic place to crash for the night. With a 100 rupee deposit, they provide good rooms for Rs 100 each night. A room can accommodate two to three people. In the evening, consume langar. There isn't any alcohol or tobacco allowed.
The cheapest hotel in Shimla is Gurudwara Singh Sabha, which is located on Cart Road and close to the local bus stop. A little more expensive option is to stay at Sood Ram Mandir Dharamshala, which is close to the local bus stop on Cart Road in Shimla. There are bathrooms attached to some of the rooms at the Sood Ram Mandir Dharamshala. Another benefit is that it is centrally located.
Foods in Shimla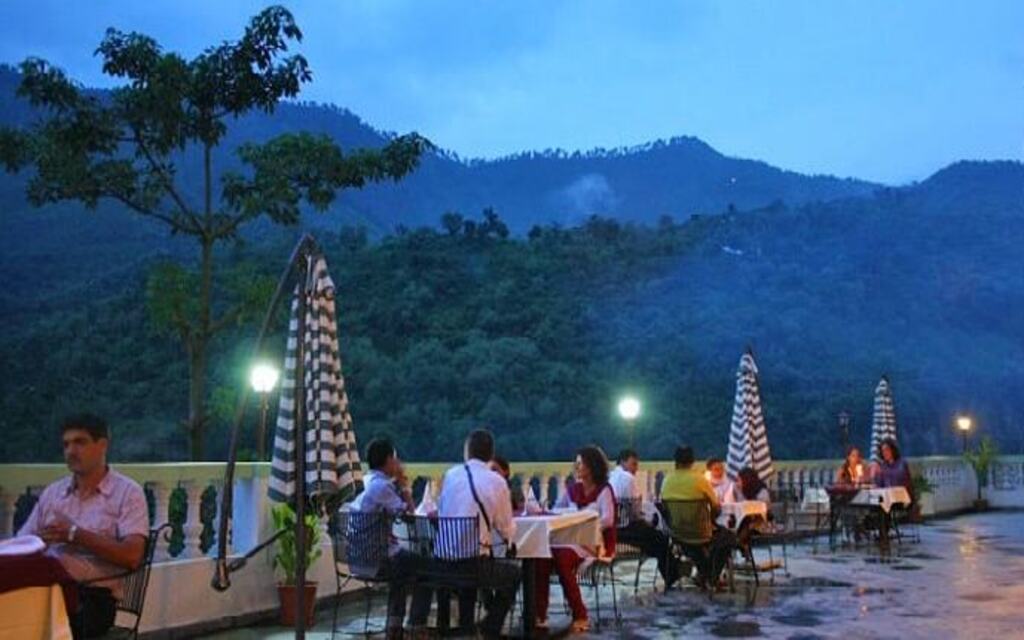 After learning about the accommodation, we will discuss the foods during a trip to Shimla from Delhi. Shimla boasts an unlimited array of restaurants serving all different sorts of food because it is a well-liked tourist destination. Here, you can taste local Himachali cuisine as well as dishes from North and South India, China, Italy, and pretty much everything else. The hotel chain now offers traditional Himachali cuisine including Patore, Khoru, Murgh anardana, and cha ghosht. Additionally, tikkis and Chana Bhatura are available in many parts of Shimla.
There are numerous restaurants in Shimla that serve a variety of cuisines in an effort to draw tourists. These restaurants offer a variety of food to suit every taste, including North Indian, South Indian, Mughali, Chinese, Tibetan, Punjabi, and Continental. Silver Oak, Loveena, Sher A Punjab, Indian Coffee House, Fiesta Food Court, and others are a few of the well-known restaurants.
Shimla has a wide variety of vegetarian food at many restaurants, including chana Batura, veggies, and veg south Indian cuisines like idli and dosa. Shimla is a popular tourist destination.
Good Chinese restaurants serving delectable Chinese cuisine can be found in Shimla. These eateries, including Alacarte Restaurant, Ashiana Restaurant, Dimsum Chinese Fast Food, etc., are well known for serving high-quality, authentic Chinese cuisine.
Shopping in Shimla
You can shop in four different locations. Mall Road, the center of all the excitement, is the first one. The Tibetan Market, which is the second and less expensive choice, allows for good clothing bargains.
Try Lakkar Bazaar if you wish to buy some decorative stuff. It is a fantastic location to buy travel memories.
Another great location to purchase some regional handicrafts is the Himachal Emporium.
I hope this would help you during a trip to Shimla from Delhi.
Image credit: Yandex.com
Also Read: Restaurants in Shimla
(Visited 111 times, 2 visits today)