Bali travel guide gives information about Bali, how to reach Bali, Places to visit in Bali, things to do there, Bali Nightlife, where to stay in Bali, food & Restaurants, Shopping, and many more! Bali is one of the most scenic places on earth. This lovely island has miles of pristine shoreline, enthralling spiritual fervor, vast rice terraces, and gorgeous sunsets. There is simply so much to see and do in this far-off paradise. Beyond its incredibly lush tropics and beaches, this Indonesian island is home to many stunning features. Are you planning a trip to Bali? There's so much to see and experience in this paradise. Read the Bali travel guide for first timers by us!
One of the main reasons why Bali is one of the most popular international vacation destinations among Indian tourists is that it is reasonably priced. You'll never run out of things to see and do in Bali, a true traveler's paradise. The only difficult part is choosing which attractions and activities to fit into your schedule. The Bali travel guide for first timers would help you well plan your trip to Bali, Indonesia.
Due to its proximity to the equator, Bali experiences tropical weather. For a few months, it enjoys the rainy season, and in the summer, it experiences intense heat. As a result, it is suggested that the best times to visit Bali are from October to March when the region has mild temperatures and weather. Bali travel guide for first timers with tips and advice on places to visit, things to do, cheap accommodation, food, and shopping.
Bali Travel Guide for First Timers
The Bali travel guide for first timers is a collection of tips for visiting Bali, Indonesia from the experts. Bali has excellent air and maritime connections to major cities throughout the world. The island is connected to many international cities by a variety of airlines. Tourists can also sail on cruise ships from Singapore and Sumatra, which are nearby nations. There are local buses and ojeks that can be used to travel the entire island.
Travel by Air
Thirteen kilometers distance the capital city from Ngurah Rai International Airport. Both significant domestic and international cities are connected to the airport. The airports in Chennai, Delhi, Mumbai, and Kolkata all have connections to Bali. Malaysia Airlines, Singapore Airlines, Thai, Malindo Air, Air India, Air Asia, and more well-known airlines fly between these cities to Bali. Since there are no direct flights to Bali, travelers frequently make stops in Kuala Lumpur, Singapore, and Bangkok.
Travel by Water
A good port for cruise enthusiasts in Bali. Bali's port of call is frequently visited by cruise ships from South-East Asia. Take a flight to Singapore, Java, or Sumatra if you want to travel to Bali by water. You may enjoy the sea journey to Bali by taking ferries from there.
How to Get Around Bali
Bemos & Buses
Bemos are a kind of minibus or van that can only fit about 12 people inside. Visitors rarely use them because they are typically very time-consuming. However, the majority of the rides cost under $0.32.
Buses for tourists are a convenient and inexpensive method to travel. Many of them offer Wi-Fi, and they typically have air conditioning. In most places, there are signs advertising these services. There are two major tour bus companies: Kura-Kura Bus and Perama. Denpasar to Kuta costs about 1.93$, compared to 16.07$ from Kuta to Lovina. Ubud to Kuta costs $6.43.
Taxis
Taxis are inexpensive and necessary for moving about Bali. Starting at about 0.45 dollars, the price per kilometer ranges from 0.32 to 0.96 dollars. On the island, you may also locate drivers who will take you wherever you want to go. An airport transfer to Seminyak or Canggu should cost around the same as a car from Ubud to Padangbai (where you board the ferry to Lombok and Gili).
Most locations have Bluebird Taxis, which is the most reputable provider of metered taxis and English-speaking drivers.
In Southeast Asia, Grab is a well-known brand. It is an Uber child. Although it occasionally costs even more than a cab, it is nevertheless convenient. A comparable choice is Go-Jek, which also provides motorbike rides.
Bicycle
All across the island, bicycles can be rented for a daily rate of $3.21 for a basic bicycle.
Motorcycles and Scooters
The experience of Bali wouldn't be complete without a motorbike, and you can see entire families riding them! The reason motorbikes are so popular here is that they make it simpler to maneuver through heavy traffic.
Renting a scooter costs as little as $5.79 per day while renting a motorcycle runs about $19.29 per day. This choice requires expert driving, though, as collisions happen frequently.
Ferry
Ferries make traveling to and from Bali simple. From East Java to West Bali, ferry tickets cost as little as $0.96, and prices increase from there for other itineraries. The cost of traveling from Bali to Lombok one way in a speedboat costs between 19.29 and 22.50 dollars, while the cost from Bali to the Gili Islands is between 32.15 and 3.86 dollars.
Even though reservations are not required, they are a good idea at the busiest travel times or on more traveled routes.
Places to Visit in Bali
Check out the Bali travel guide for first timers that will take you through Nusa Dua, Uluwatu, Seminyak, Canggu, Ubud, and much more!
1. Ubud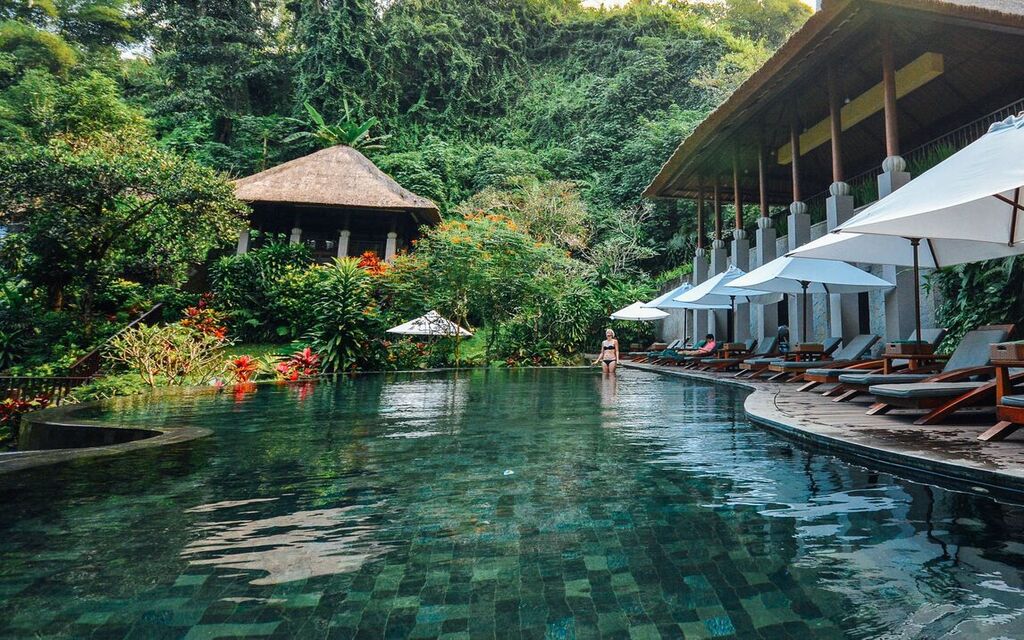 It is Bali's main cultural hub, and home to daily traditional dance performances and a plethora of organic cafés, craft stores, yoga studios, and art galleries. There are several stunning temples, countless historical sites, and dancing performances. Visit Tegalalang Village to observe the well-known rice terraces and to speak with the residents who are farmers and artists. You may reach Tegenungan Waterfall by traveling to the south. It is advisable to visit this lovely waterfall early in the day when it is less crowded.
2. Hike Mount Batur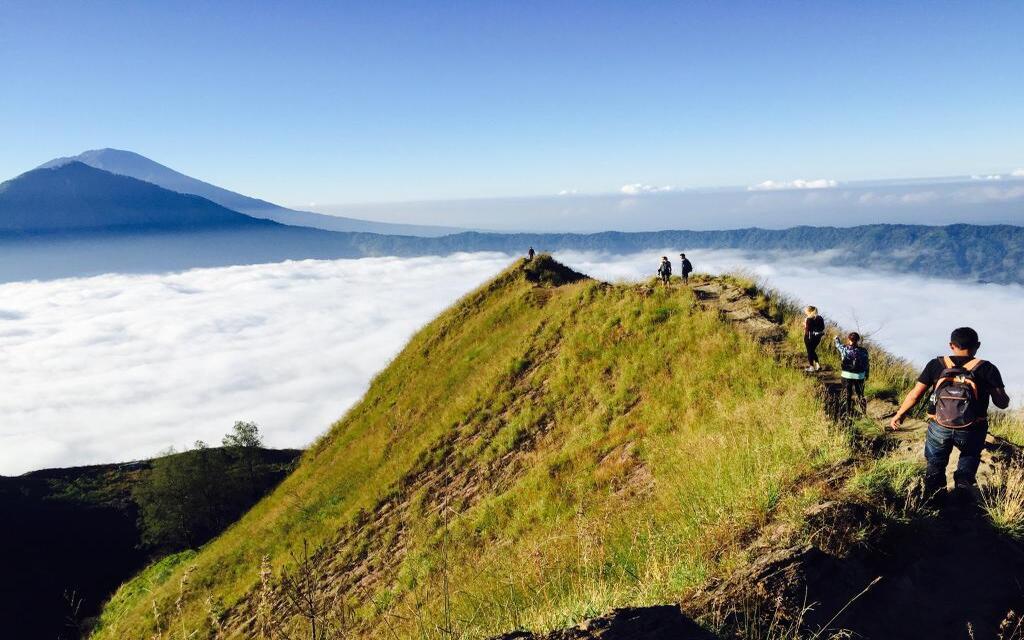 This 1,700-meter (5,577-foot) volcano is a popular hiking destination because of the expansive views and breathtaking sunrises it provides. There are several guides available to lead the trip, and the climb only lasts a few hours. A guide should cost about $25.72 per person.
3. Kuta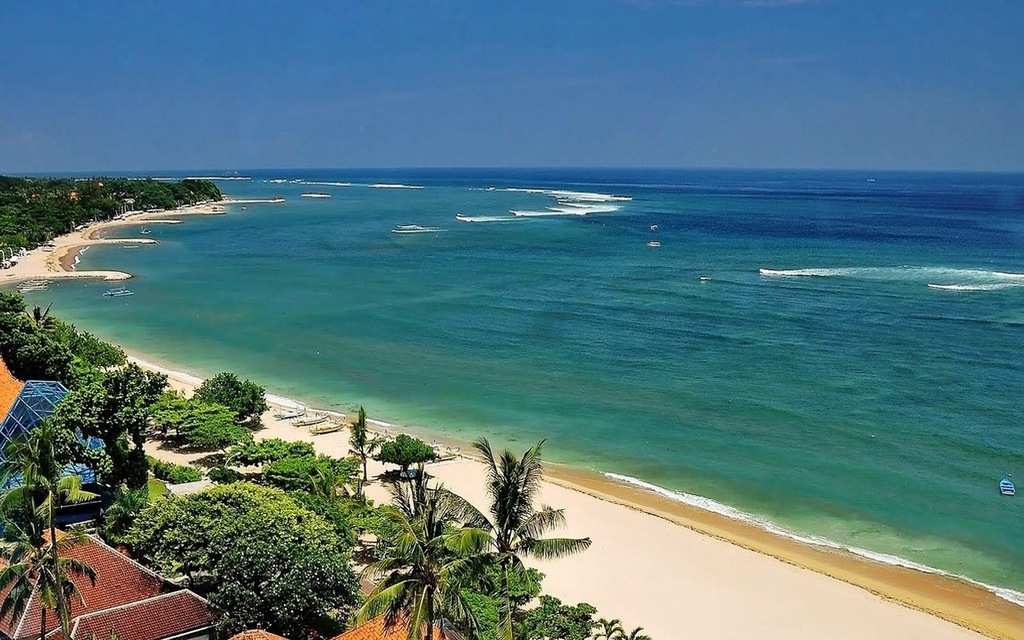 This location in Bali is probably the most famous. Not just because of the famous Kuta Beach, but also because of the exciting nightlife that caters to party guests till the early hours. Kuta will be of use to you if you're looking for a mix of beach time, exciting nightlife, and shopping opportunities.
4. Seminyak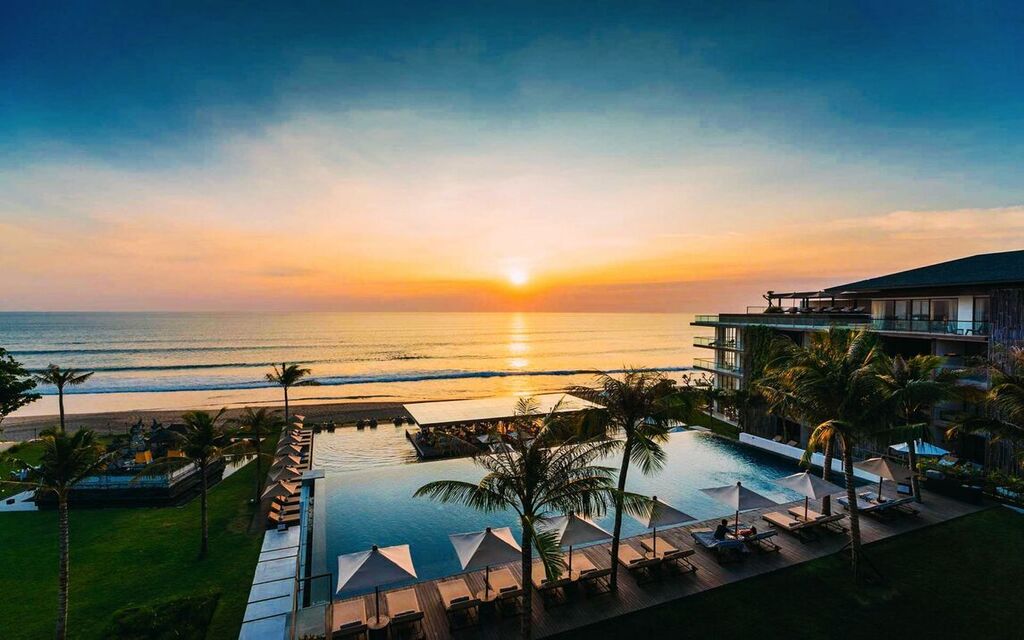 One of the best spots to visit in Bali is Seminyak. This beach town, which is situated north of Kuta-Legian, is home to elegant hotels, private villas, boutique shops, and a variety of fine dining establishments.
5. Canggu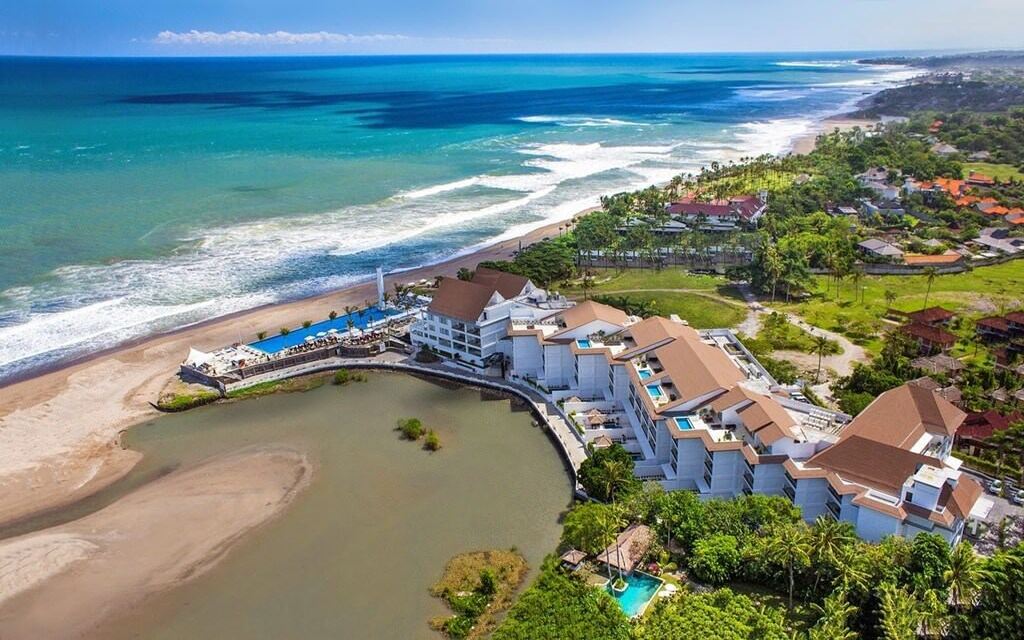 You'll adore Canggu's powerful waves if you're an experienced surfer. If you want to avoid tourist crowds, this village is a great place to visit.
Get a bite to eat at one of Finn's Beach Club's fantastic restaurants and a drink at one of the many bars. One of Bali's most recognizable sites is Tanah Lot Temple.
6. Uluwatu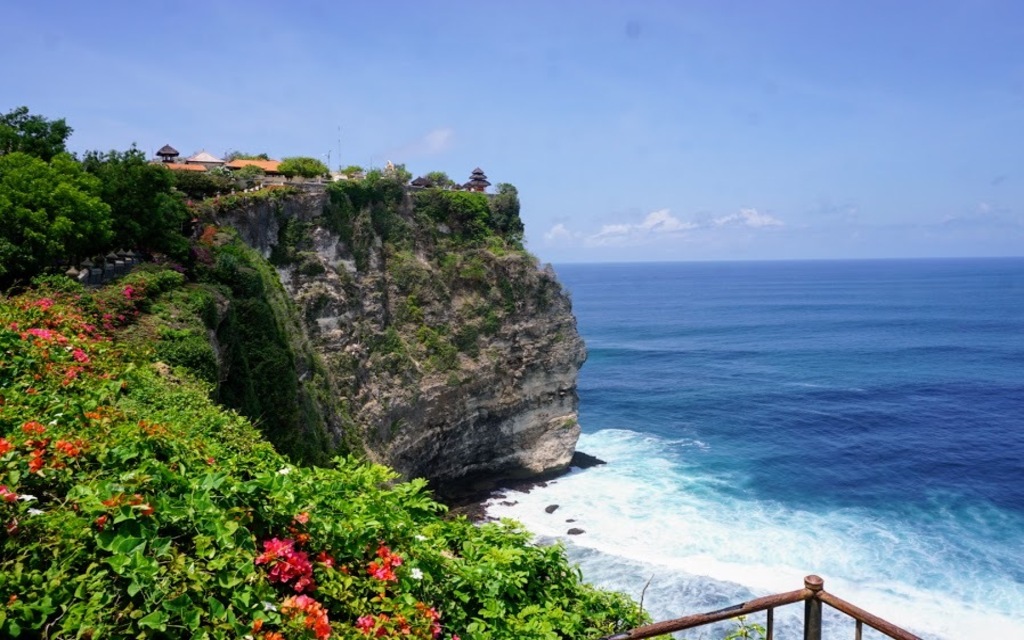 Located in the south of Bali, it is a lovely location known for its stunning clifftop views and gorgeous beaches.
Be sure to visit Uluwatu Temple, one of Bali's most well-known and stunning temples perched atop a cliff more than 200 feet high. This lovely temple has gorgeous gardens, local monkeys, and sculpted cliffs, making it a wonderful location.
7. Nusa Dua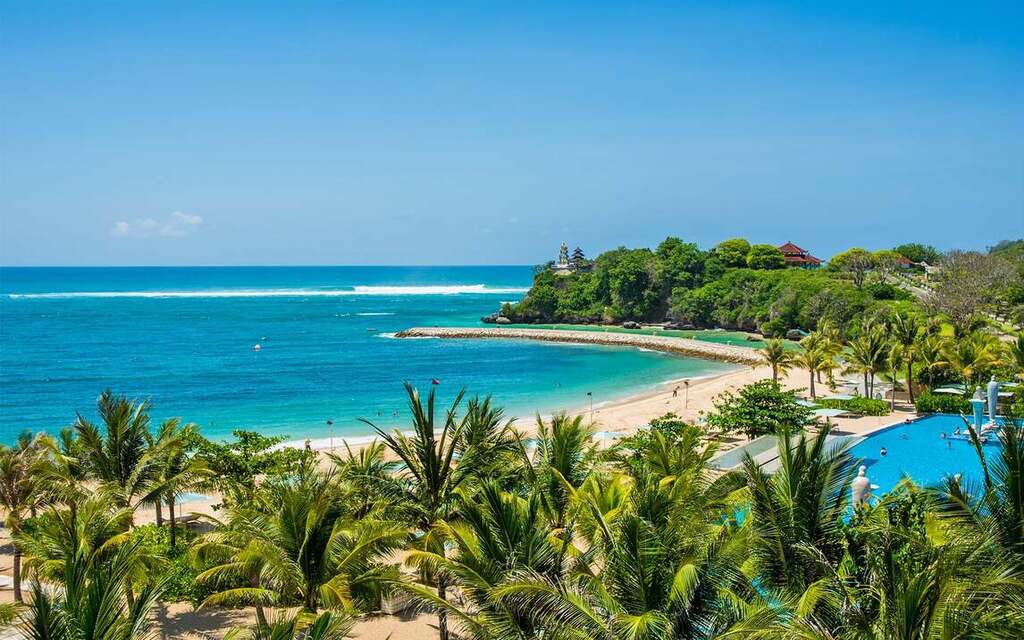 If you want to have a relaxing vacation in Bali, Nusa Dua needs to be at the top of your list of places to go. The beaches are less busy, and the town is quiet and remote. Because of this, Nusa Dua is ideal for travelers seeking a laid-back atmosphere.
8. Nusa Islands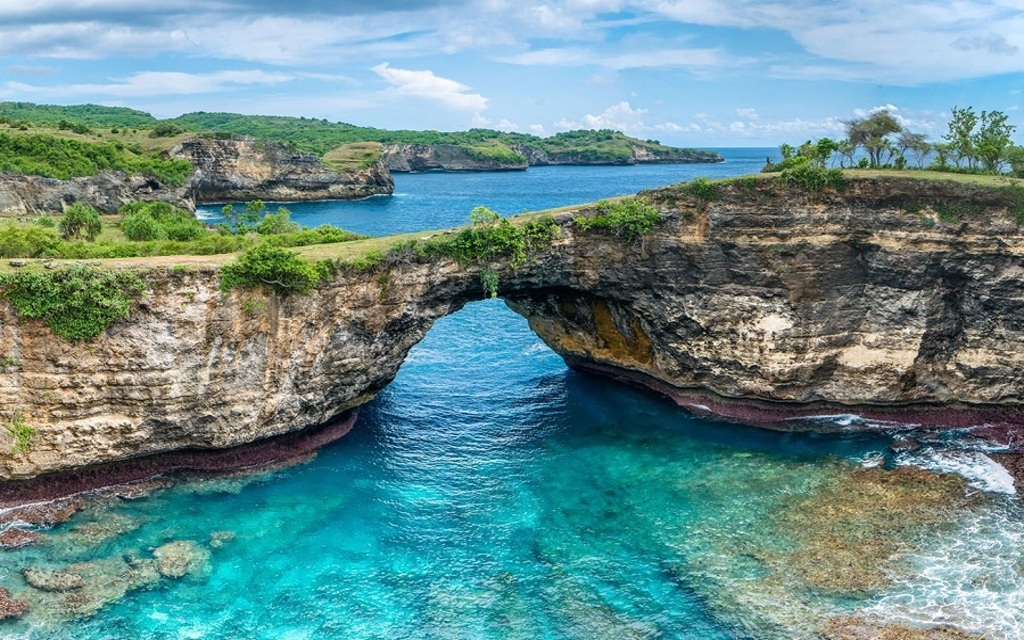 The three magnificent islands that make up the Nusa Islands are definitely worth setting aside a day or two to explore. The diving and snorkeling opportunities on these islands are unrivaled!
The most well-known island, Nusa Penida, features breathtaking sights including the renowned Kelingking Beach, Crystal Bay, Angels Billabong, Broken Beach, and Peguyangan Waterfall.
A beautiful island ideal for beach hopping and snorkeling is Nusa Lembongan.
A tiny island called Nusa Ceningan, which is joined to Nusa Lembongan by the well-known yellow bridge, is sandwiched between the other two.
Renting a bike here and casually cycling the entire island is fantastic. The island has a number of coves and tiny beaches where you may spread out a beach towel and unwind.
9. Pura Tanah Lot temple
The most scenic location in Bali is Pura Tanah Lot, which is dramatically marooned on a wave-lashed rock just off the coast of Kuta. Elegant multi-tiered shrines with frothing white water and shimmering black sand have come to represent Bali. Every day, especially around sunset, the place is crowded with throngs of visitors. One of Bali's holiest sites, the temple is thought to have been built in the sixteenth century by the wandering Hindu priest Nirartha. Only genuine worshippers are permitted to ascend the stairway cut into the rock and enter the premises.
10. Jimbaran Bay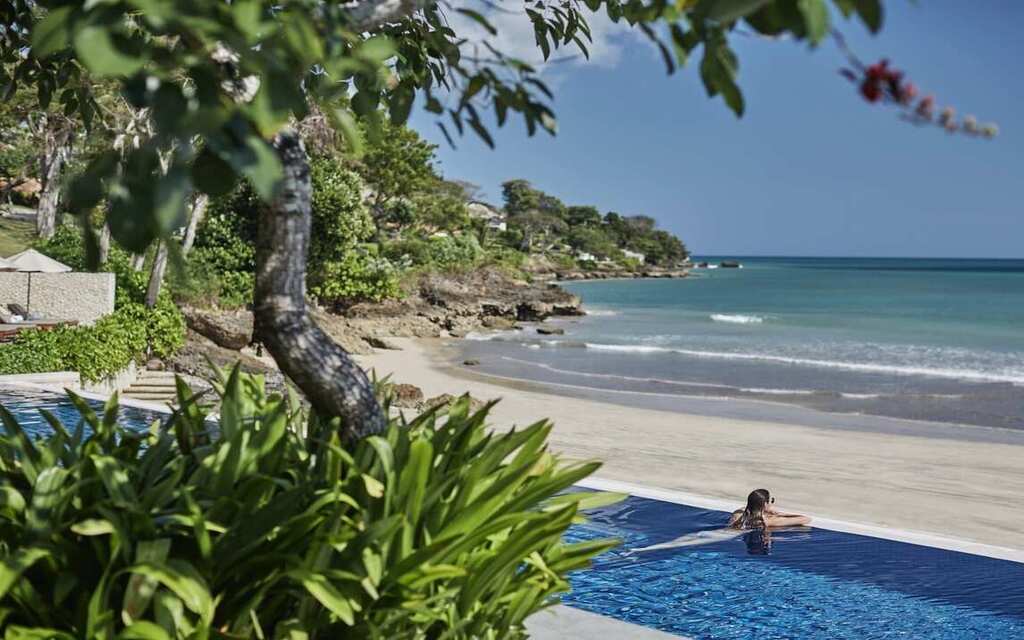 The stunning limestone cliff-fringed coasts that are home to some of Bali's top surf spots and reef breaks are among the greatest things to do in Jimbaran. These beaches, some of which are rather remote and have rocky terrains, continue to draw thrill-seekers and people who enjoy the thrill of the chase.
The most noteworthy ones are the spectacular clifftop Uluwatu Temple and the Garuda Wisnu Kencana cultural park, which are located along the southwestern shoreline of Jimbaran.
Things to Do in Bali
Check out the Bali travel guide for first timers that will guide you to do things or activities like scuba diving, the hot springs, the spa, trekking, river rafting, and many more!
1. Scuba Diving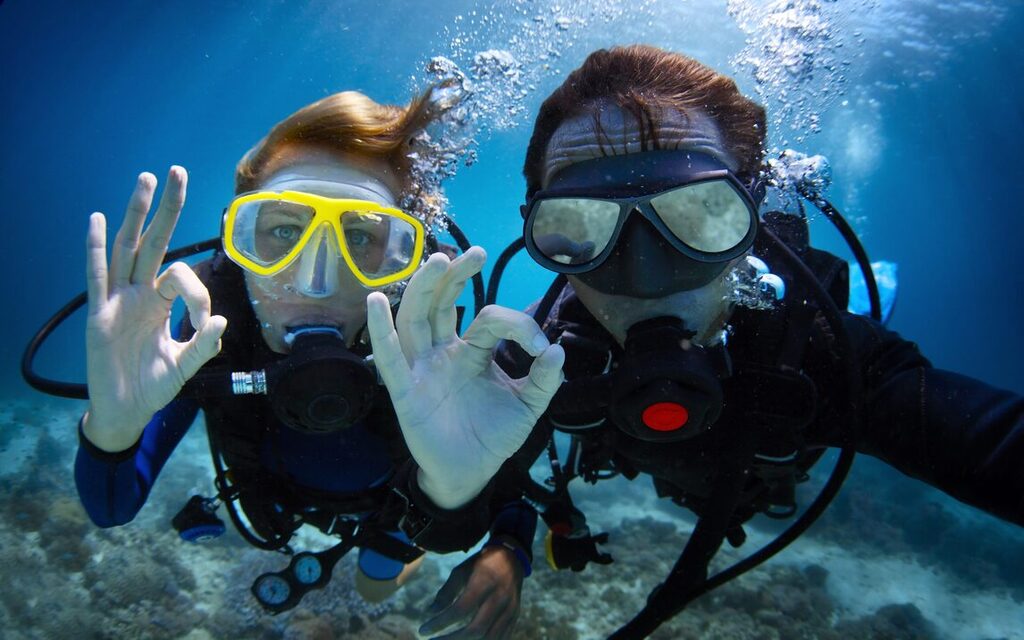 Even though snorkeling is always an option in Bali, the island is better recognized for its amazing dive sites. There is an incredible diversity of species to see on these gorgeous reefs. Both Manta Point off Nusa Penida and the wreck of the US cargo ship Liberty are highly recommended locations. The mola mola (ocean sunfish) season, which lasts from July to October, is highly well-liked by divers as well. Prices vary based on where you are living and the diving site, but you should budget at least 96.44$ for a two-tank dive.
2. The Hot Springs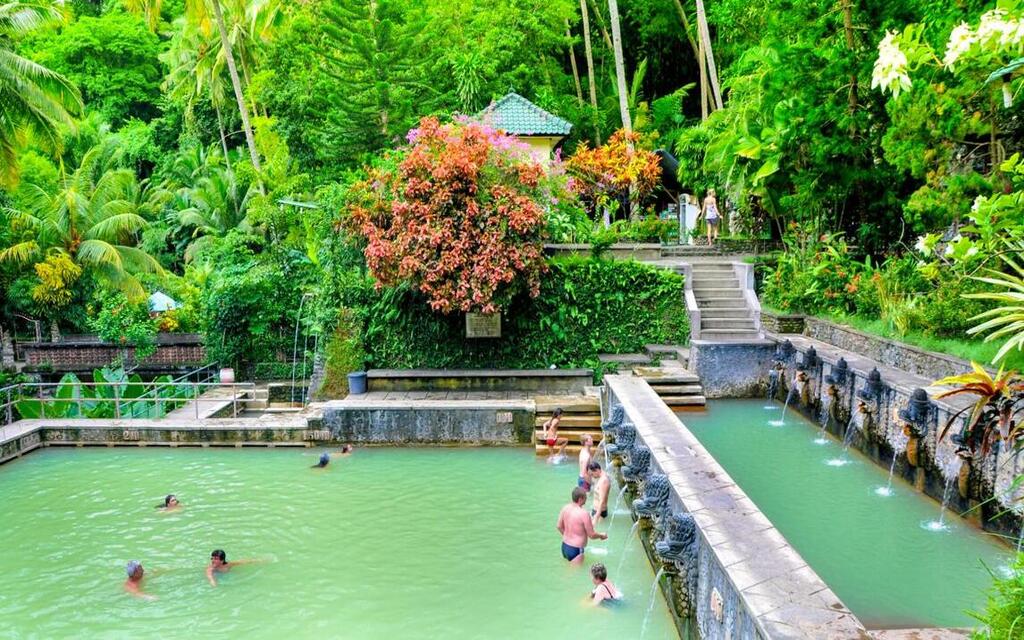 On the island, there are a number of hot springs where you may unwind and treat yourself. There are some on Lake Batur's shoreline in the northeastern mountains. Air Banjar, which is close to Lovina on the island's northern coast, is another great location. Sitting in these natural ponds and seeing the stunning, green surroundings is immensely uplifting. While prices for admission vary, plan to spend about 200,000 IDR.
3. The Spa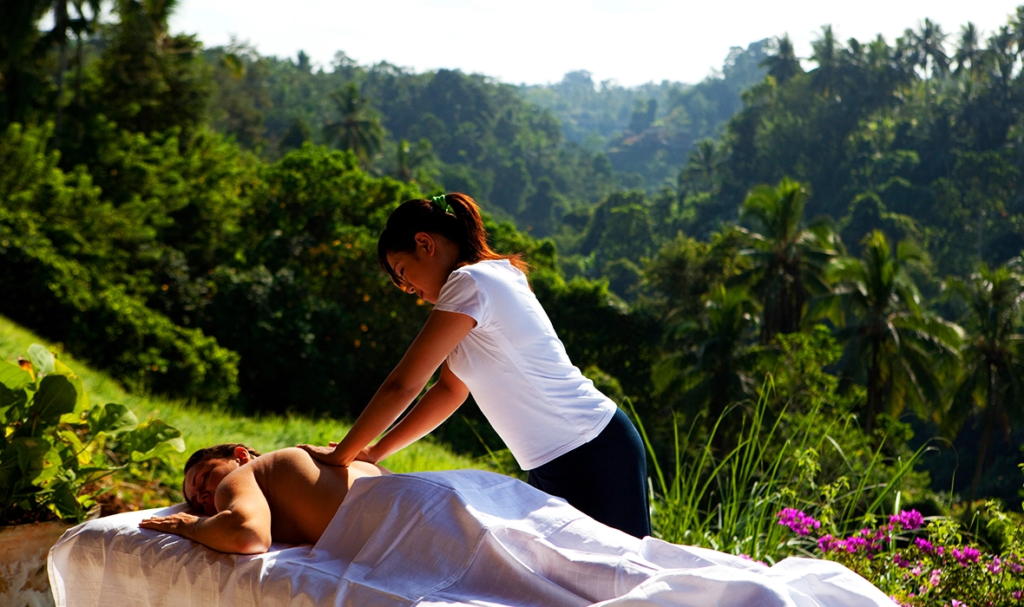 Bali is the ideal location to rejuvenate by treating yourself and letting go of pent-up worry and tension. One of the most soothing massages in the world is a Balinese massage, and many Balinese spa treatments employ different herbs and spices. Prices vary depending on what you buy, but a massage should cost at least 200,000 IDR.
4. Buffalo Race
After a few days in Bali, it's likely that you'll have seen the water buffalo at work in the various fields. Every second Sunday from July to October, residents of Negara race buffaloes while seated atop chariots. Because Negara is somewhat remote and the races start at 7 a.m., you should usually book lodging the night before. However, it's an odd spectacle that you probably won't see anywhere else!
5. Trekking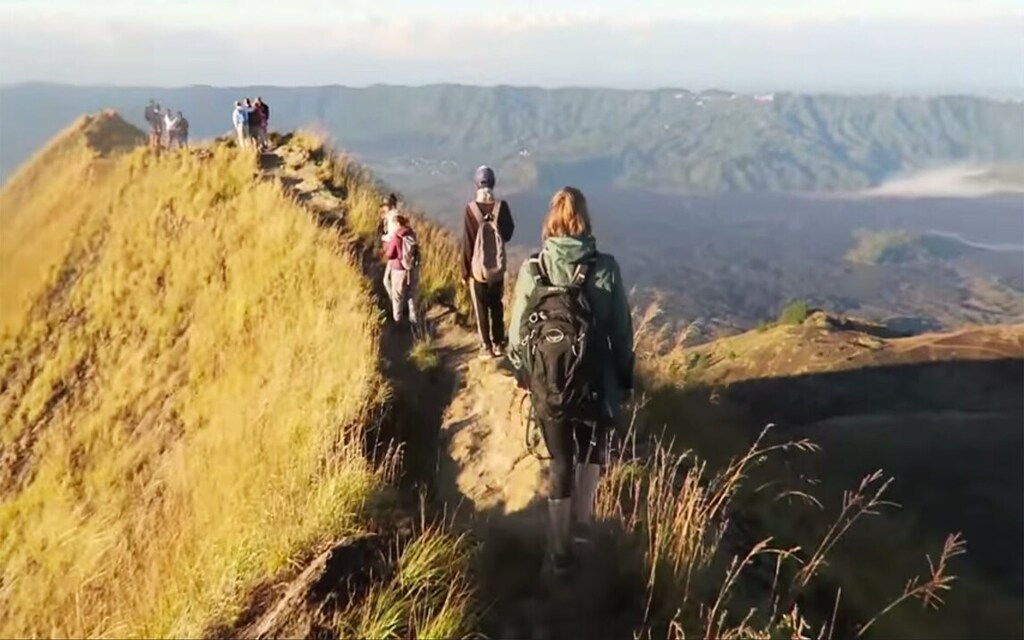 Nothing is more thrilling if you're visiting Bali for adventure than a trek up a volcano. The most well-known is scaling Gunung Batur's smoldering rim, with views of unearthly peaks and turquoise-silver crater lakes along the way. Only the physically fit should attempt the challenging Gunung Agung.
6. River Rafting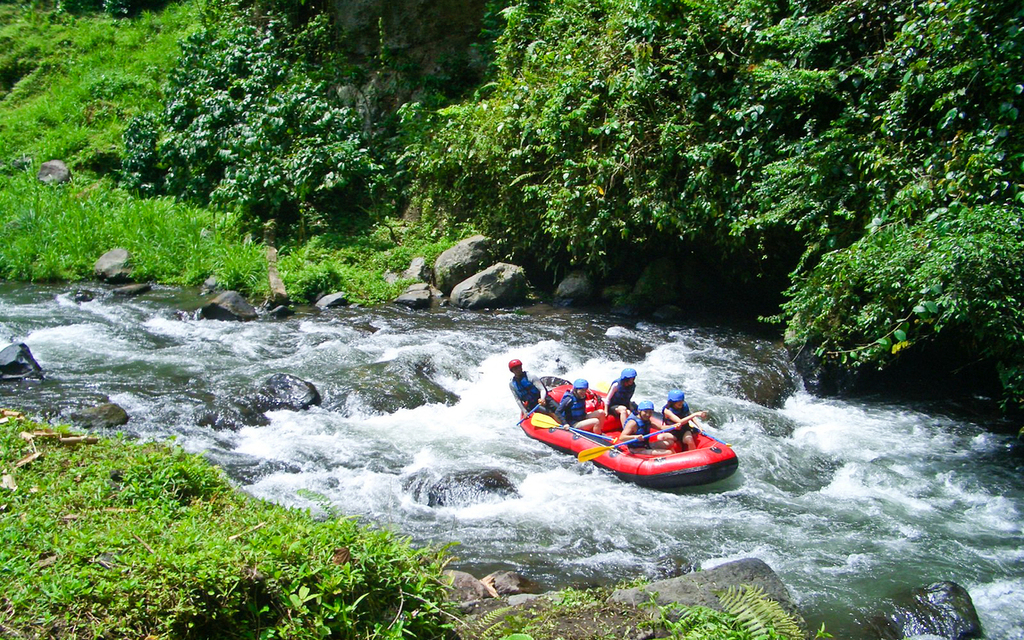 You can kayak through the calmer estuaries or go white-water rafting on the Ayung River's Grade II-III rapids.
7. Snorkelling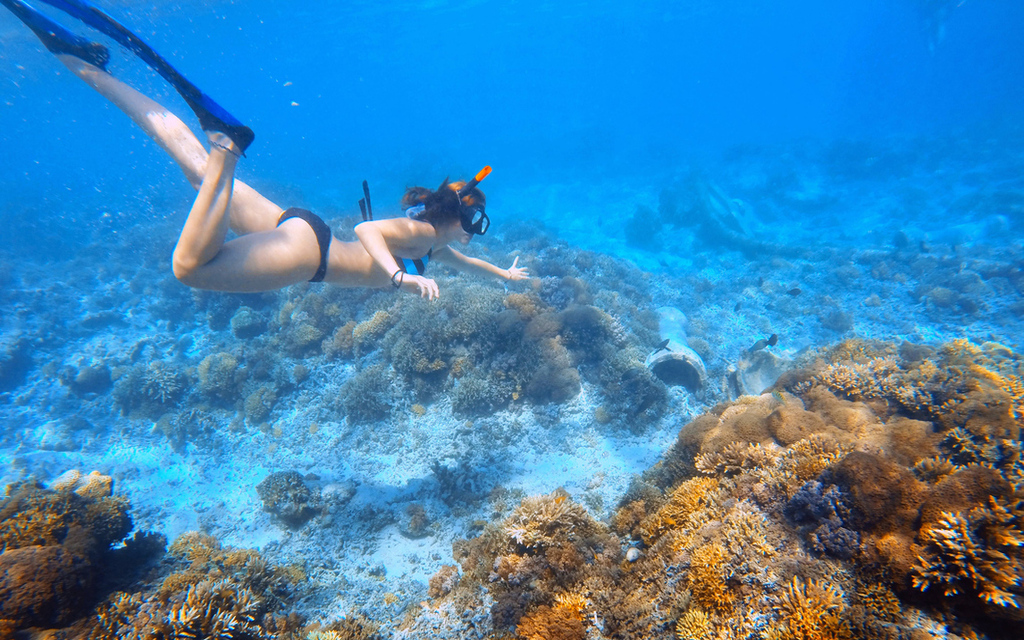 Powdery beaches line the east coast cities of Amed and Padang Bai, and close offshore are some of the richest marine species in the world. Put on a mask and dive underwater to explore the coral reefs and colorful tropical fish.
8. Kuta Karnival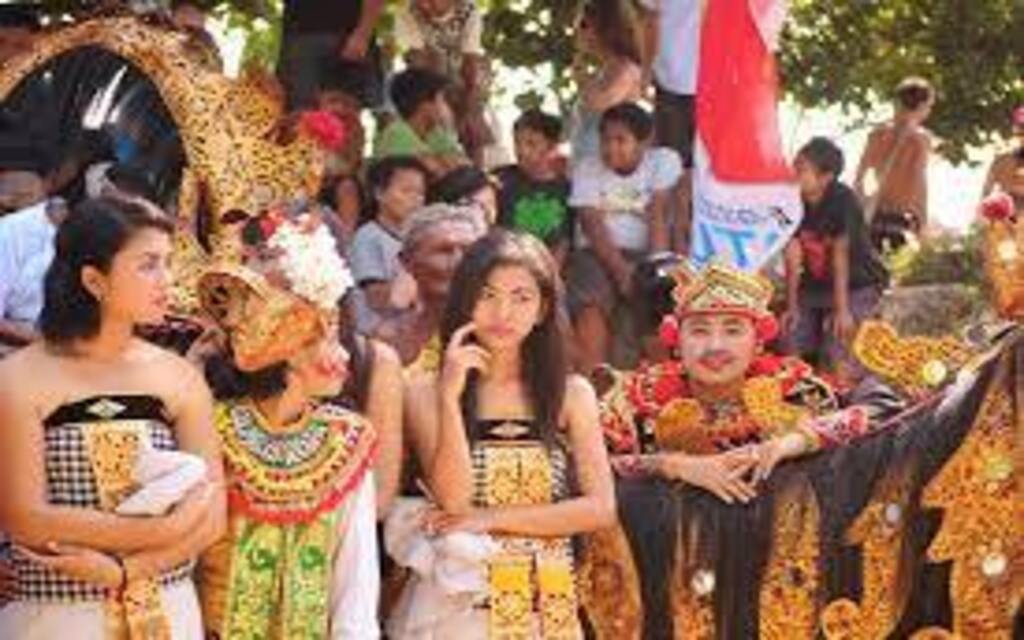 Every October, Kuta comes alive with vibrant parades, surfing and skateboarding competitions, and live performances by local musicians.
9. Practice Yoga in Ubud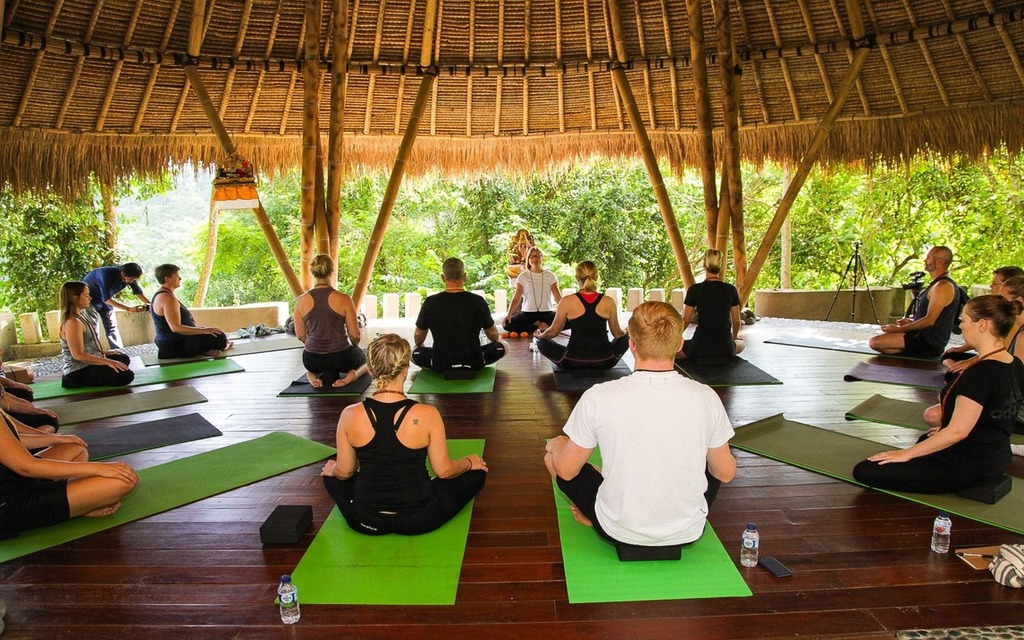 One of the largest yoga communities in Southeast Asia is located in Ubud, and many devotees visit Bali for retreats and training. In the vicinity, there are perhaps hundreds of instructors available to share their knowledge at the areas over a dozen schools.
Where to Stay in Bali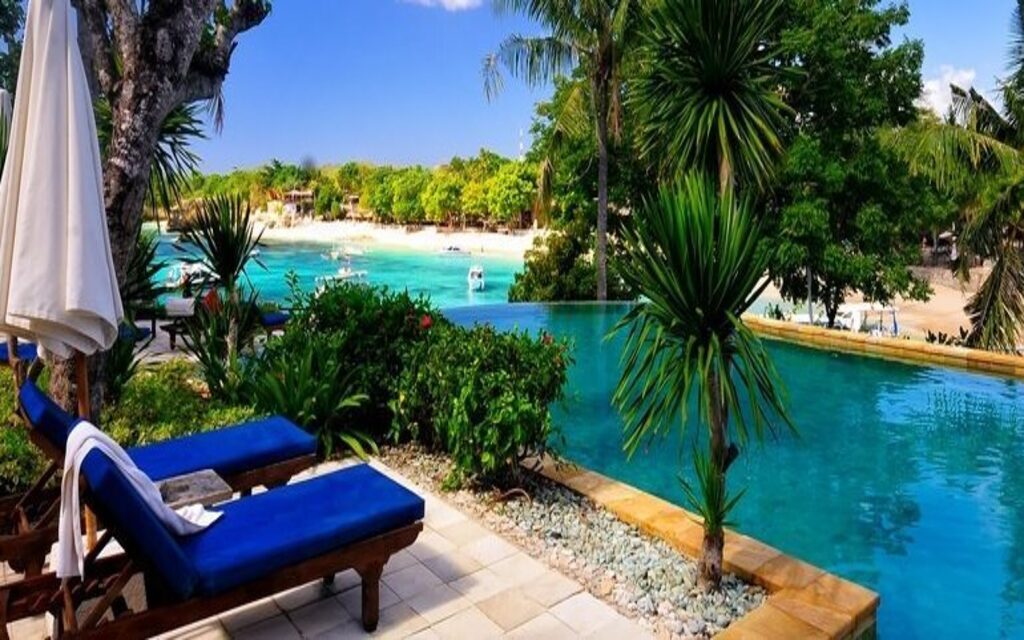 The cost of traveling to the island of Bali is not too high. Accommodations can be found in Bali in a variety of forms. What's more, there is a choice for every kind of traveler.
Homestays, guesthouses, and small hotels may be your best option if you have a limited travel budget. The majority of these rooms have nightly rates between $10 and $20.
If you want nice accommodation with comfy beds and inexpensive breakfast options, they are perfect. The location of these modest hotels isn't always ideal, but for approximately $5 per day, you can rent a scooter to move around.
These opulent villas may be found online for only $50 per night. Even better if you're traveling in a group!
Villas that sleep six people for $200 a night are widely available, making them only $30 per night.
Foods in Bali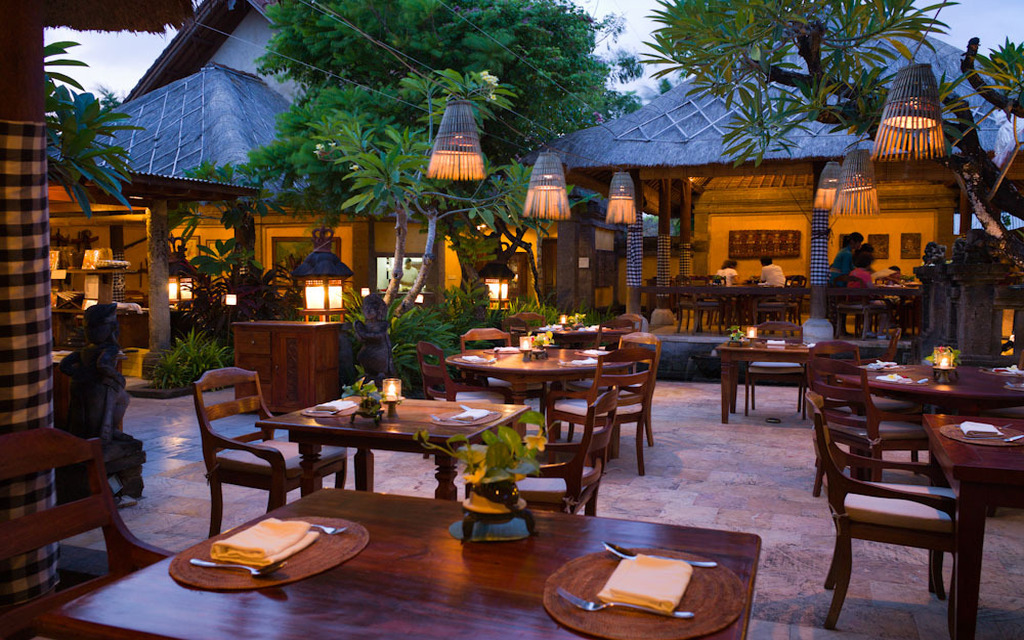 Bali has inexpensive food. You may enjoy a great supper on the streets for $1 to $3. $10 will get you a decent supper while you're out on a date. Depending on the part of the island you choose and the kind of experience you seek, the cost of meals and beverages will vary widely.
If you're looking to sample some of the best Indonesian cuisines in the world, Seminyak and Uluwatu typically have pricey eateries. There are more affordable options in North Bali, Ubud, and Canggu.
If you're on a tight budget, warungs (small neighborhood restaurants) are a good option because they offer filling meals for between $1 to $3 per serving. Meals at mid-range restaurants cost between $5 to $10 per person, whereas high-end dining establishments or beach clubs charge between $14 to $50 per person.
Don't be shocked if you see alcohol marked up 300% because wine and beer can be somewhat pricey. Budget travelers to Bali are in for a big treat because a pint of beer will only cost you about $2 at the grocery shop.
Undoubtedly, the price of a pint of beer at a restaurant is double that of a pint obtained from a grocery store. A pint might cost anywhere from $4 to $7, depending on the brand you select.
In Bali, you may enjoy a nice dinner every day for less than $5 each meal, just like in most of Indonesia, where you can obtain affordable and satisfying meals. However, a traditional lunch at a reputable restaurant would cost you at least $20 to $25.
Also Read: Pattaya Travel Guide
Image credit: Yandex.com
(Visited 101 times, 1 visits today)