London is a city with a population that is highly diverse with cuisine from across the world. There are several mouthwatering delicacies in London, but certain of the popular foods in London, you really must taste them there. The depiction of favourite foods and preferences in restaurants reflects how multiculturism is linked to many facets of London society. However, if you believe that the majority of the popular foods in London are made up of traditional dishes from immigrants, you would be mistaken.
Food lovers from outside England, always search for popular foods in London. Pubs are still a common place to find trustworthy and comfortable British classics. Find a great list of the popular foods in London, you must try when visiting. Here in the list, you will find takeaway food London, neat burger London, best Asian food London, best fried chicken in London, and party catering London.
1. Full English Breakfast
Bacon, eggs, sausages, black pudding, tomatoes, baked beans, mushrooms, and bread make up this well-rounded breakfast. It is typically consumed with tea or coffee to help you get a full start on the day.
One of the best cuisines in London is the English Breakfast, which is available throughout the day in many cafés and pubs. The origins of this national meal can be found in early Anglo-Saxon customs when it was normal to give a hearty breakfast to visitors, family members, and neighbours.
Where to Find:
Terry's Café — 158 Great Suffolk St, London SE1 1PE, United Kingdom
Regency Café — 17-19 Regency St, SW1P 4BY in Westminster
The Wolseley — 160 Piccadilly, W1J 9EB in Green Park.
2. Fish & Chips
A delicious fried dish called "fish and chips" is made up of fish and chips that have been battered and fried. This delicious yet simple dish is of English ancestry and has grown to be one of the most well-known dishes in London. Although it is best served hot and eaten as a main course, you can find it at food stands all throughout London as a take-away snack.
Where to Find:
Brockley's Rock — 317 Brockley Rd, London SE4 2QZ, United Kingdom
Poppie's — 6-8 Hanbury Street Old Spitalfields Market, London E1 6QR England.
3. Bangers and Mash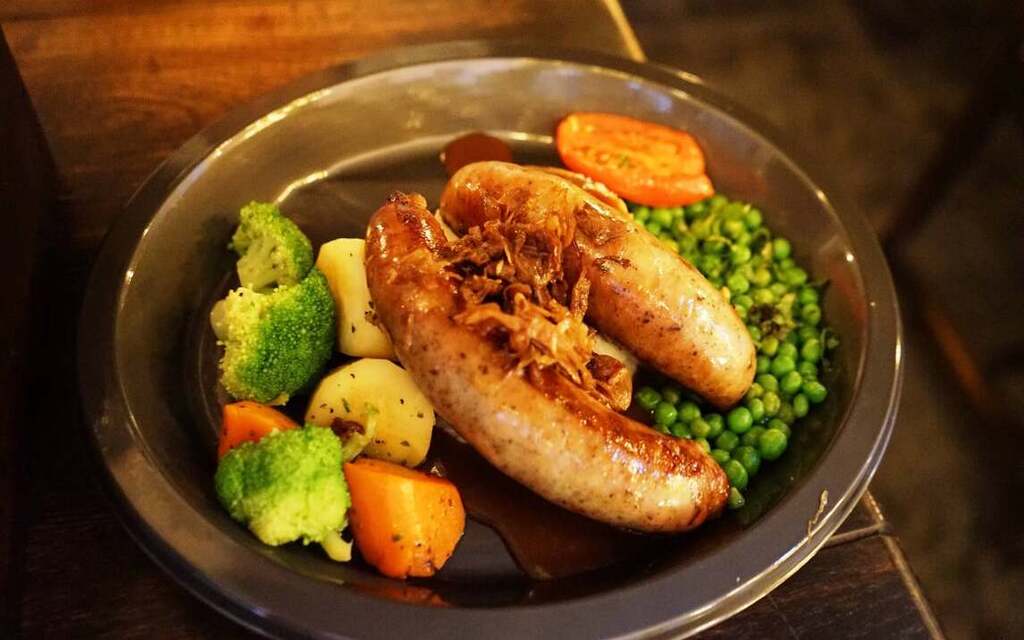 Also referred to as sausage and mash. They got their name from the way they used to pop out of their skins as they were being fried. This is one of the most well-liked classic foods in London despite recent changes in eating patterns. It tastes best when accompanied by a mountain of buttery mashed potatoes and rich onion gravy.
It is challenging to resist the tender sausages nestled inside a delicious, creamy pile of mashed potatoes and fragrant onion gravy, which are typically served in pubs. This pub cuisine has been named the most well-liked comfort meal in Britain as a result of its popularity. If you find yourself stuck in a London rain, it's absolutely a smart idea to warm up and refuel.
Where to Find:
Mother Mash — 26 Ganton St, Carnaby, London W1F 7QZ, United Kingdom
4. Pie and Mash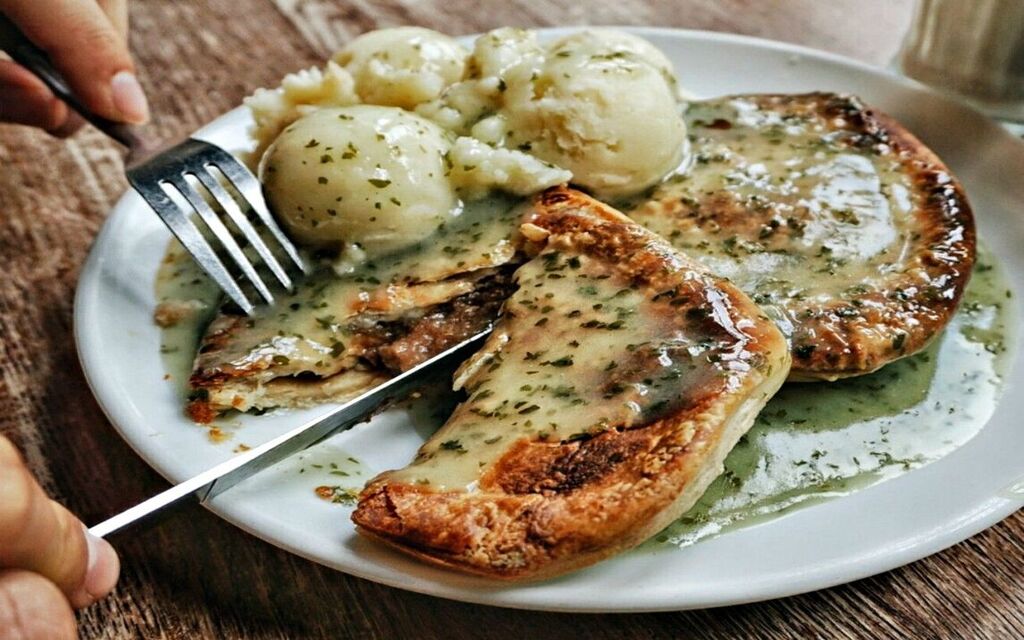 Another simple supper is called "pie and mash," which consists of a pastry pie filled with minced meat and served with creamy mashed potatoes. It is frequently consumed with a distinctive parsley sauce known as liquor sauce.
Pie and mash's origins can be traced to the Victorian era when labourers needed hand-sized, affordable, transportable meals. Pie and mash were formerly known as traditional working-class fare. Back then, jellied eels were also a common working-class food, which increased the demand for eels and pie in Great Britain.
Where to Find:
M.Manze — 87 Tower Bridge Road, London SE1 4TW England
5. Sunday Roast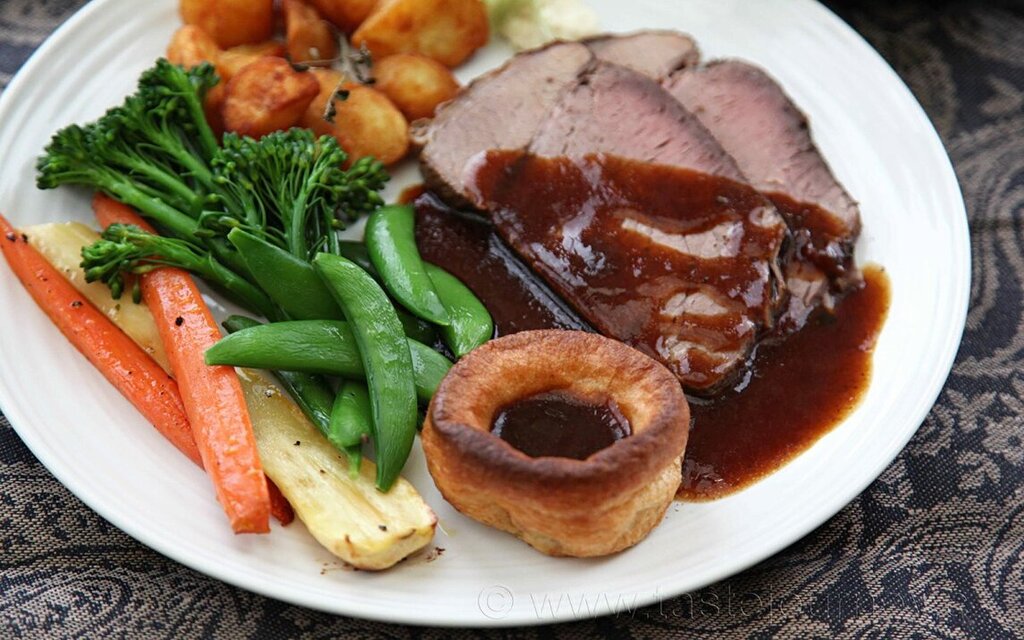 The Sunday Roast is among the most storied and well-known dishes to taste in London. On Sundays, Sunday Roast is available at the majority of pubs. This wonderful dinner was first created in England where it was traditional to consume a substantial supper following Sunday church services.
Roasted meat, mashed or roasted potatoes, and additional sides like stuffing, gravy, mint sauce, and Yorkshire pudding are all components of this dinner, generally on Sundays. Additionally, vegetables are provided with this delicious cuisine. In other words, a platter full of some of London's best traditional meals.
Where to Find:
The Pig & Butcher — 70 Liverpool Rd, N1 0QD in Islington
The Grazing Goat — 6 New Quebec St, W1H 7RQ in Marylebone
Guinea — 30 Bruton Pl, W1J 6NL in Mayfair
6. Scotch Egg
An English food classic is a boiled egg encircled by pork and then fried in breadcrumbs. It can be found in gas stations and street food stands alike. According to legend, the luxury supermarket company Fortnum & Mason created the Scotch egg as a portable snack for travellers. Regardless of where it came from, this spherical beauty is a true taste of England and unquestionably one of our favourite local dishes in London.
Where to Find:
Ginger Pig — 8-10 Moxon St, London W1U 4EW, United Kingdom
7. Roast Bone Marrow
If you've ever had bone marrow at a high-end restaurant, you can thank Fergus Henderson, a chef from London, for essentially putting this dish "on the map." His St. John Restaurant in Barbican is incredibly well-liked. The greatest place to try roast bone marrow is undoubtedly St. John, where it is made with parsley salad and served with crusty bread.
Where to Find:
St. John Restaurant, 26 St John St, Barbican, London EC1M 4AY, United Kingdom
8. Bacon Butty
The bacon butty is ideal if you're looking for a must-try breakfast item that isn't as filling as the Full English. Although there are various variations of the bacon butty, the two main components are thick-cut bacon and crusty bread or a roll. The standard bacon butty just contains these two ingredients, though there may be some variations with other ingredients. For flavour, you can also add your favourite sauce.
Where to Find:
Breadline Café — 4 Duncannon St, London WC2N 4JF, United Kingdom
9. Sticky Toffee Pudding
This is a well-liked delicacy in Britain and goes by the name sticky date pudding. This sticky toffee pudding is a moist sponge cake. They bake it with chopped dates in a buttery, creamy toffee sauce. They serve it with vanilla custard or ice cream.
Where to Find:
MotherMash — 26 Ganton St, Carnaby, London W1F 7QZ, United Kingdom
10. Bubble & Squeak
Possibly less well-known than some of the other delicious dishes. It's a perfect way to use up leftover vegetables from a typical Christmas feast. They boil potatoes and cabbage and fry them in animal fat or butter into small round cakes. The dish is a very popular holiday meal in the U.K.
Where to Find:
Bubble & Squeak cafe, 384A Baring Rd, London SE12 0EF, United Kingdom
11. Roast duck
Peking-style (they inflate the duck with air to separate the skin from the meat before roasting) and Cantonese-style are both available in London (they marinate the duck in a soy-based sauce and require less preparation time than the Peking counterpart). You can enjoy this with a British twist: they serve the glazed duck breast with cabbage and a hearty sauce.
Where to Find:
For a delicious Peking-style roast duck:
Shikumen (58 Shepherd's Bush Green, W12 8QE) or Hutong (33 St Thomas St, SE1 9RY)
For a traditional British roast duck: Rules (34-35 Maiden Ln, WC2E 7LB).
Image Credit: Yandex.com
Also Read: Healthy Food Manchester
(Visited 74 times, 1 visits today)