The technique of increasing the quantity and quality of search engine traffic to a website via organic search results is known as search engine optimization (SEO). Site owners began to understand the importance of their websites being highly visible and ranked in search engine results, which opened up opportunities for both white hat vs black hat SEO specialists.
Understand the crucial differences between black hat vs white hat SEO approaches to ensure you employ ethical and sustainable strategies for long-term online success. Every businessperson wants to have their company included on Google's first page. so that he may increase his traffic and visitor count.
Explore the pros and cons of black hat vs white hat SEO techniques to make informed decisions on optimizing your website's visibility and ranking. Online marketing is now challenging and fiercely competitive. Learn the importance of adhering to black hat vs white hat SEO.
Your website's searchability and ranking can both be improved using SEO. Search engine optimization makes it easier and faster for clients to find your goods and services online. The end result is an increase in motivated and interested website visitors, which translates into more sales for your group, club, or small business.
Get a competitive advantage
Increase customer and target audience reach
Increase sales and ROI
Save time and money
White hat the word "SEO" refers to a group of procedures used to circumvent the terms of service of search engines in order to raise the rank of a website or page. Here we are exploring the difference between White Hat SEO and Black Hat SEO.
Black Hat SEO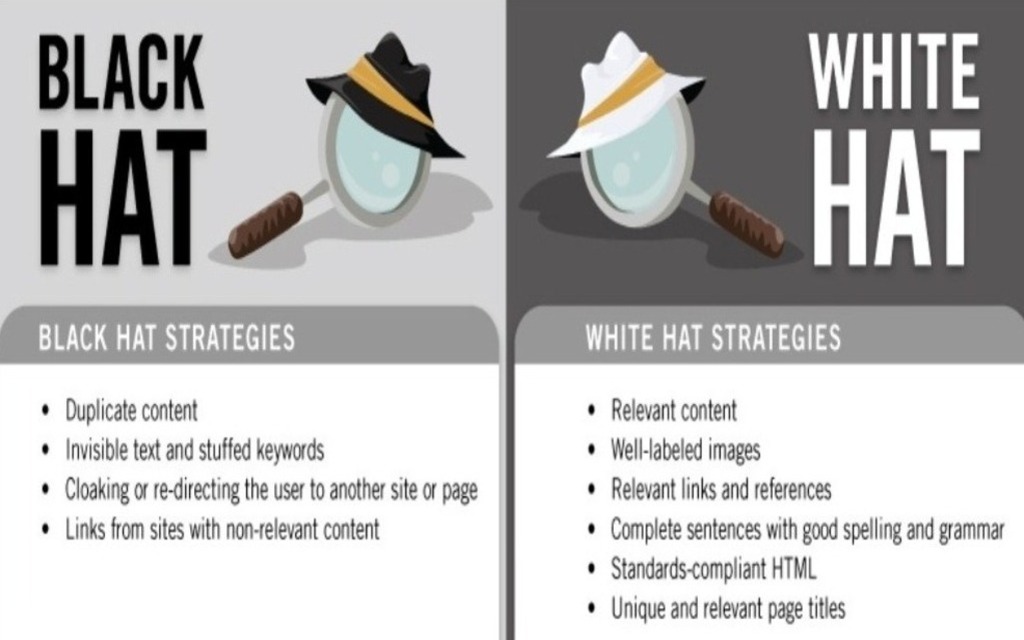 In Western movies, the phrase "black hat" first appeared to distinguish the "evil guys" from the "good guys," who wore white hats. Nowadays, it's been used more widely to denote computer hackers, virus authors, and individuals who undertake unethical behaviors with computers. For instance, keyword stuffing, doorway pages, hidden text or links, content automation, flagging a competitor (or negative SEO), etc.
Black Hat SEO refers to the application of aggressive SEO techniques and methods that are solely directed at search engines rather than human users.
On their website, people who are looking for quick financial returns use it.
For the purpose of deceiving search engine crawlers and boosting ranking, it incorporates junk and spam keywords into the on-page material.
Backlinks that are not relevant make up it.
For the ranking, links are exchanged.
It also goes under the name of unethical SEO.
It serves short-term objectives and rewards.
The search engine industry does not support this kind of optimisation.
Black Hat SEO disregards Google's recommendations.
methods employed Stuffing keywords, creating doorway or veiled pages, and spamming blog comments links with hidden text, involvement in link schemes
It doesn't accomplish the goal of the search.
The algorithm is replaced by manipulation to produce better results.
The user experience is lowered.
It is not concerned with creating excellent material.
It lessens the reliability of websites.
It lessens a website's authority.
The search engines disapprove of black hat SEO.
Duplicate Content is a component of Black Hat SEO.
The risk of doing black hat SEO is substantial.
Moreover, black hat SEO uses unrelated backlinks.
A variety of techniques can be used for search engine optimisation. White Hat SEO and Black Hat SEO refer to the proper and improper methods of performing SEO, respectively. Google, on the other hand, does not like the Black Hat SEO techniques.
Black Hat SEO is a technique used to manipulate search engine results pages (SERPs) in order to increase your site's rating. It is used by those who want a rapid return on their website rather than a long-term investment.
Let's first explore the main Black Hat SEO strategies before talking about their effects and results.
1. Keyword Stuffing: Stuffing your content with unneeded keywords to boost its rating on search engine results pages is a practise known as "keyword stuffing." Nonetheless, the users will find it extremely frustrating if the page ranks for those irrelevant terms.
2. Doorway Pages: These are those undesirable sites that serve as a conduit between the audience and the actual content. They have nothing to do with users because they were made to rank highly for particular keywords.
3. Cloaking: Different content is displayed to consumers and search engines throughout this process. For instance, if you type in the keyword "mathematics" and then visit a similar website, you will be redirected to a page with entirely different material.
4. Content Automation: It describes the method of producing material that uses machines rather than people. Instead of putting user needs first, the intention is to produce material that is more search engine friendly.
5. Hidden Texts/Links: These are the misleading forms of links that are essentially undetectable to users. The web pages with these hidden links embedded on them have the same appearance as regular web pages for the time being while these hidden links are being evaluated. There are several methods for doing it:
Using the same backdrop color as the text
Changing the font's size to 0
Hiding in the picture
Placing the link after a comma, colon, or other tiny character.
6. Duplicate Content: One of the most popular Black Hat SEO strategies is article duplication. Even Google has altered its algorithm to determine whether the material on your website is unique or duplicated from other websites. Original content is always preferred by Google.
7. Sneaky Redirects: It involves sending users to a new URL instead than the one they requested. Although there are legitimate reasons to switch a user's URL, harmful activities are the main cause for doing so.
8. Paid Links: Indeed, Bought Links fall under the heading of Black Hat SEO since Google will de-index your site if you try to increase your domain authority by buying links.
There are numerous other Black Hat SEO strategies as well that go against Google's rules. The question is, why are these approaches being employed if they do not adhere to search engine guidelines? It might be because it offers some short-term success. However bear in mind that Google is becoming increasingly severe with its standards, and if you breach them by using Black Hat SEO, your site could be punished or completely de-indexed. The following is a list of SEO techniques you should use to stay away from black hat SEO:
When performing SEO, the user experience should always come first.
Do not use doorway pages, cloaking, or other methods to deceive the search engine.
Original stuff should be provided; avoid repetition.
Follow the Search Engine Guidelines as they change.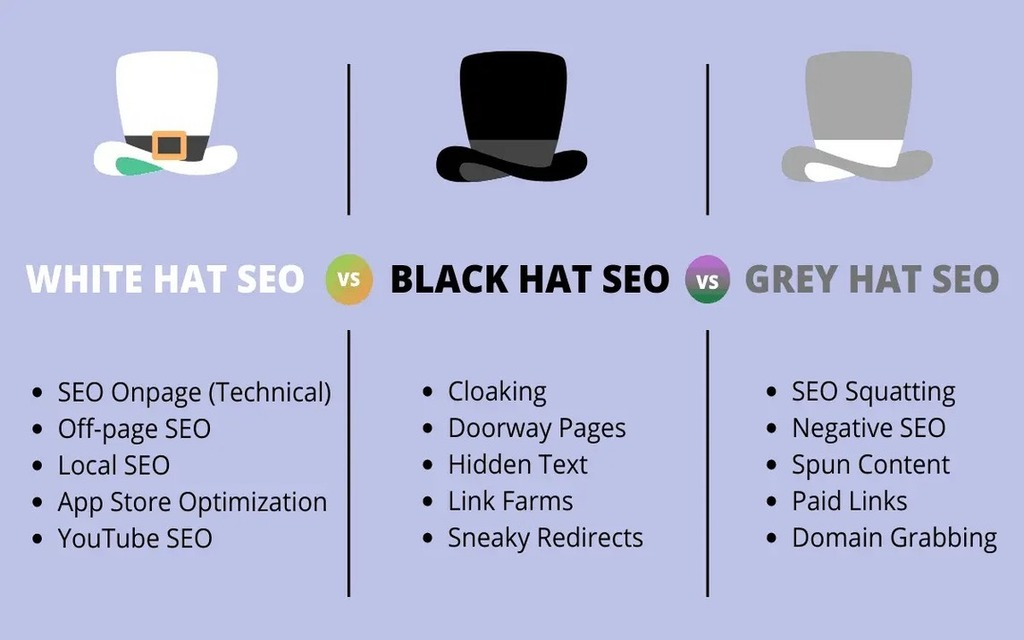 White Hat SEO
White Hat SEO is the practice of improving a site's rankings on search engine results pages (SERPs) while adhering to search engines' terms of service and protecting the integrity of your website.
Examples include providing high-quality products and services, making your website responsive to mobile devices, using meta tags that are keyword-rich and descriptive, and making it simple to navigate.
White Hat SEO refers to the employment of optimization SEO approaches and strategies that entirely adhere to the laws and policies of search engines while focusing more on the human audience than the search engine.
It is the most popular SEO technique that utilizes methods and technologies to improve search engine rankings. White hat SEO makes use of tools like link building and producing high-quality content.
Some of the Methods utilized in White Hat SEO- Research and suitable keyword selection, Texts of excellent quality and originality, updated on a regular basis. Keywords appear in headings and subheadings, Authentic photographs of great quality, Making content for people rather than search engines and many more
In addition to preserving the legitimacy of the website, it enhances your search performance on search engine result pages (SERP).
It is well-researched, uses artful titles, and uses relevant Meta data for each webpage and industry.
Due to its high-quality content, it receives the link.
It has ties that come from nature.
Ethical SEO is another name for it.
It is utilized for long-term aims and rewards.
This type of optimization is approved by search engines.
White Hat SEO provides a better experience to users by following Google's guidelines.
Techniques used Research, Analysis, Re- writing of meta tags to be more appropriate, Improvement of content, Redesign web, Having Fast Page Loading Times, Prioritizing Mobile-Friendliness
It satisfies the aim of the search.
It can achieve a high ranking via Organic means.
It's beneficial to the user experience.
It is dedicated to producing high-quality content.
It improves the credibility of a website.
It increases the authority of a website.
White Hat SEO is approved by the search engine.
White Hat SEO contains relevant content.
White Hat SEO carries little to no risk.
Additionally, White Hat SEO includes pertinent backlinks.
It helps in growth in ranking of websites.
It makes it simple to navigate your website.
It is a secure and advised SEO tactic.
It is mobile friendly.
It is best approaching tactics for driving traffic to a site.
It's useful for building online user networks, among other things.
It takes a long time for White Hat SEO to produce the intended results.
It follows SEO rules.
It is permissible.
Grey Hat SEO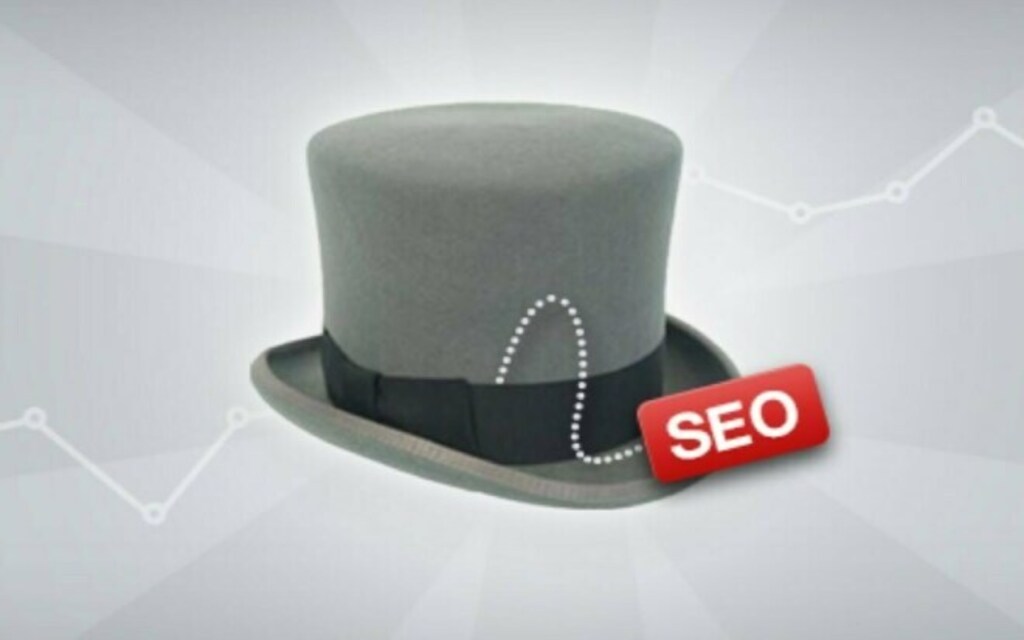 Grey hat SEO lies in the middle of the two, as you can probably infer from the name. The grey hat techniques are somewhat ambiguous and do not abide by or go against the terms of services that search engines publish. The approaches tend to be somewhat dubious and will probably become black hat, meaning marketers must maintain a tight eye on SEO trends.
Gray Hat SEO is neither black nor white, it rather combines both. It converts White Hat SEO to Black Hat SEO and Black Hat SEO to White Hat SEO techniques.
The sole purpose of the content is to raise the page's rating. Just enough keywords are present to drive traffic to the website; however, they do not add any significance.
It also follows SEO guidelines.
It helps in conversion from White Hat SEO to Black Hat SEO and vice versa.
Paying links, purchasing followers on social media, creating duplicate material, using hidden text to increase keyword density, spinning content, cloaking, and other black hat SEO tactics are just a few examples.
White Hat SEO is significantly less risky than Gray Hat SEO.
It redesigns your websites at regular interval.
It is between Black Hat SEO and White Hat SEO.
Although it is risky, it can boost your site's ranking without having any negative effects.
It adds good relevant link to the page.
It selects good and notable topic.
It is also ideal approaches strategies for bringing traffic to a site.
Gray hat strategies may face further scrutiny from search engines in the future, reducing their usefulness.
By the criteria given above, creating content just for the purpose of obtaining links is against the Google's guidelines.
Improves the ranking of websites without having any negative impacts.
Using it for long-term strategic planning is not a good idea.
It is legal, but it carries a higher risk than the others.
Here are Some Major Grey Hat SEO Techniques below:
Domain grabbing: One of the most widely used grey hat SEO tactics is domain grabbing. Using this method, you can improve the SEO of your own website and backlink profile by buying expired domains. Existing domains will likely already have an authority that you can build upon and link them back to your blog or home page.
Upgrading or spinning old content: The average word count of top-ranked searches is 2,416 words. If you have a series of short-form blog posts, add information to make them into long-form content, and enhance the rankings. You can add more keywords to increase the SEO, reach out to other bloggers, attract social shares, and market your work.
Careful keyword stuffing: Keyword stuffing is bad practise that leads to useless content and poor user experiences, as we discussed in the black hat SEO section. Yet, employing a major keyword three or four times in a 1000-word post is a good strategy to increase organic SEO. Having keywords within title tags, H2, and H3 tags, URLs, and the beginning and end of the content is a positive stuffing method.
Link Exchange: Exchanging links manually falls under grey hat SEO. Building backlinks to a variety of sources involves exchanging links with other websites or blogs. You might be able to compile a list of all relevant blogs in your field, get in touch with them, and collaborate on content promotion. Start by contacting bloggers to explore how the two of you might together produce valuable content for your audience. People will reciprocate if your website is high-quality and creates unique reader value.
Use free online tools and get the latest information on gaming, toys & games, gadgets, tools & equipment, camping & outdoors etc.
Also Read: How to Grow Your Online Business Fast
Image credit: Yandex.com
(Visited 87 times, 1 visits today)